Las Vegas Shows and Entertainment:
American Superstars Show Tickets and Reviews
American Superstars Stratosphere Tower
Reviewed November 8, 2000
by Ted Newkirk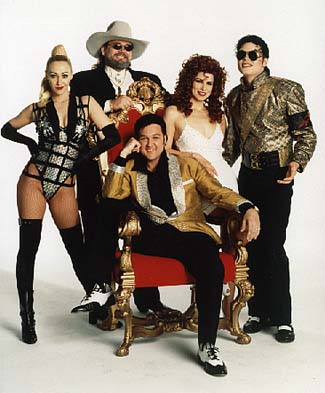 American Superstars features tributes to Madonna, Michael Jackson, Charlie Daniels, Elvis Presley and Gloria Estefan (with a "limited engagement". Ricky Martin at time of review). The show is a hybrid: One part celebrity recreation, one part 80's rock concert, and one part Vegas show.
Elvis hit the stage first, with over-the-top renditions of classics like "Viva Las Vegas," "Blue Suede Shoes," and "Jailhouse Rock." Done with elaborate lighting, sexy female dancers, and a live video shot of the fanfare shown on
sidestage screens (hallmarks of every act), he set the stage for an energy level that seldom let up.
Gloria Estefan put on a passable set of the singer's hits, although getting by more on staging and movements than being a complete look-alike as was the case with most of the performers. However, with any "tribute" show, one must understand you are attending for the music and emotions recreated in a live setting.
I'm not a traditional country fan, but Charlie Daniels put on a rousing rendition of "Devil Went Down to Georgia" and patriotic favorite "God Bless the USA" as well as displaying some mind-bending fiddle work.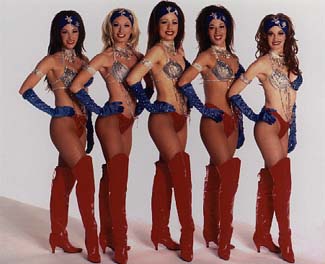 Madonna put on a nice set of hits from across her entire career, and (understandably) had great choreography with the dancers as well as displaying both the 80's and 90's Madonna look. Ricky Martin was next. Even though he was getting by more on looks and attire than singing ability, he seemed to be a hit with the ladies. Michael Jackson capped the show with a drop-dead rendition of his greatest hits, a look that could be mistaken for the real thing, and dancing moves that had to be seen to be believed.
American Superstars features Darren Lee as Elvis, Sandy Taggart as Gloria Estefan, Coty Alexander as Madonna, Damian Brantley as Michael Jackson and Johnny Potash as Charlie Daniels and also had an energetic 4 piece live band. One nice feature is that all of the performers as well as the dancers (in full Vegas showgirl costume) appeared in the lobby after the show to meet and greet and pose for photos with attendees.
Tickets for American Superstars at The Stratosphere are $26.95 plus tax for adults and $21.95 plus tax for children ages 5 to 12. Children under 21 must be accompanied with an adult, but with the exception of bare buns on the dancers during a couple of numbers, there is nothing remotely adult in the content.
No related links found