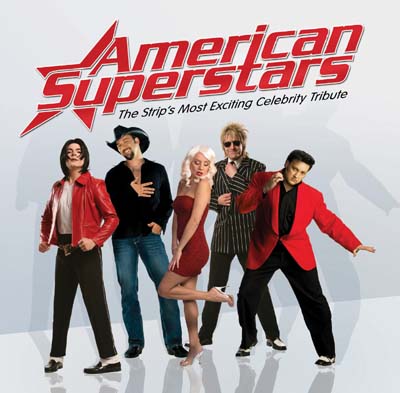 By Guy Chapman
Elvis Presley. Tim McGraw. Rod Stewart. Christina Aguilera. Michael Jackson. These five names are considered to be some of the most popular and well-known acts in the music industry. Each artist on their own is able to command a sizable ticket price when going to see them in concert, but on the Las Vegas Strip, there's a way to see all five of these acts in one show… or close enough to provide an entertaining spectacle of lights, dance and song. With the "American Superstars" show at the Stratosphere, this production showcases an entertaining group of tribute artists that provides a concert that wouldn't happen anywhere else.
"American Superstars" brings together a concert experience that provides a musical journey like no other, covering five decades of music through a handful of diverse genres from pop, country, and rock ?n' roll. As the stage lights shine brightly and the band warms up to kick off the hour and a half show, each tribute artist works the audience to entertain the crowd with a selection of their respective singer's musical highlights.
The biggest challenge of successfully impersonating a celebrity not only resides in how well the individual artist's respective talent can be performed, but also in capturing those personalities, the posturing, and their overall look. When you go to "American Superstars", you will definitely see Elvis shake his hips, Michael Jackson glide across the floor with his moonwalk, and hear Christina Aguilera belt out that musical range that she is known for. True to Las Vegas style, there is also an ensemble of showgirls who provide back up dancing and vocals for the artists, as well as having a chance to individually shine between each performance. Also backing each act is a full band who rocks out each hit alongside the featured artist.
Rounding out the cast is Darren Lee as Elvis Presley, Chad Givens as Tim McGraw, John Anthony as Rod Stewart, Lorena Peril as Christina Aguilera, and Damian Brantley as Michael Jackson. The cast is very enthusiastic about their performances, encouraging patrons to join in on the fun. Their interaction helps to bring the audience into the spotlight themselves, whether it is coming out into the audience while performing, prompting people to sing along, or even some light-heated joking with the crowd. The tribute artists get into their roles with such a fun attitude, it's easy to be caught up in the overall good time.
The finale of the show brings together the entire ensemble of artists and dancers for one last upbeat number, before heading out to the showroom lobby for a chance to meet and take photographs with the cast after the performance. It's a unique and fun opportunity to get a memorable keepsake by sharing a moment with an accurate representation of some of music's greats.
"American Superstars" brings a fun and family-friendly experience to any Las Vegas visit, providing enjoyable experience for any age. While paying to see a concert for "the real thing" (much less all five artists) may not be able to fit into everyone's budget, this a great way to enjoy a group of talented singers and dancers as a "mega concert" that is a one of a kind performance.