Las Vegas Shows and Entertainment:
Anthony Cools: The Uncensored Hypnotis Tickets and Reviews
Anthony Cools – The Uncensored Hypnotist
Reviewed May 7, 2005 By Amy Rayner-Cooley
Have you ever wondered what it's like to be hypnotized? How about in front of a couple hundred people whom you then proceed to entertain for the next hour or so with the "suggestions" given by the hilariously funny Anthony Cools – The Uncensored Hypnotist? Let's just say I'm glad that "What happens in Vegas, stays in Vegas." My friends and I went to see Cools perform at Paris Las Vegas for "Girls Night Out" and we could not have asked for a better show to see. It was so funny and my friends laughed so hysterically, they cried. I wasn't quite as privy to this hilarity at the time, because I was elected in my group to be one of the volunteers and was therefore part of the entertainment.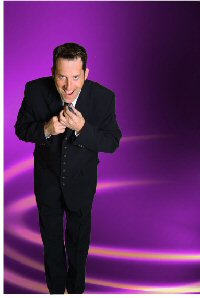 The show started off with a disclaimer announcing all of the four (and more) letter words that would be used during the show, and to get out if you didn't like to hear them. Anthony Cools isn't known as The Uncensored Hypnotist for nothing. Cools' raw, razor-sharp adult comedy will leave you laughing the rest of the night. Click to read the complete review …
After a few opening jokes, Cools asked for volunteers from the audience to be the stars of the show. On the night of my visit, there were so many volunteers that several had to return to their seats. After getting everyone settled onstage and giving an introduction to hypnosis and what was going to happen, the audience was then asked to be silent while Cools performed the hypnotism.
Once hypnotized, we were given a variety of suggestions. These could be anything ranging from playing imaginary instruments to smelling certain odors to auditioning for an adult film. (The show is R-rated, but there is no nudity. Guests must be 18 years old to attend.)
Audience participation plays a large part in the show, causing it to take on a life of its own, which creates a unique experience every night. Cools also changes up his material every night making this a great show to see over and over because you never know what is going to happen.
Once the show was over, all my friends could do was laugh and tell me how funny I had been. We weren't even out the door of the showroom and we were discussing who we wanted to bring back to have hypnotized. They were then kind enough to purchase a DVD copy of the show for me ($45 for DVD or $30 for VHS) so we could show our husbands how funny it was (and what they missed out on!) The price may seem a little steep for copies of the show, but they are worth it! It is a five camera shoot and the copies are available within a few minutes of the end of the show. I've watched it back twice already and I'm still laughing!
Anthony Cools has performed to sold-out audiences for more than 11 years and performs nightly at Paris Las Vegas inside Le Anthony Cools Experience. If you are looking for a fun show and are into risqu? humor, this show is a must see!
No related links found