by Sarah Steinberg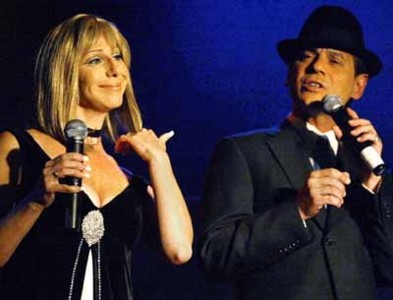 ?Barbra & Frank, The Concert That Never Was?? at the Riviera Hotel & Casino is pure Vegas entertainment. Imagine if you will, an evening with two of the greatest musical icons of the 20th Century ? Barbra Streisand and Frank Sinatra, together on the same stage. It never happened. It never could have happened. But Sharon Owens and Sebastian Anzaldo will make you feel as if it did, with you
right there in the audience. Frankie starts the night off with the classic ?I?ve Got A Crush On You.?
Anzaldo is dapper and debonair as Sinatra and quickly pulls you into the illusion. He?s got Frankie down. The voice and the physicality is unmistakably Sinatra. Owens? Streisand has all the mannerisms of the real Streisand ? the long nails, the hair. But it?s when she opens her mouth that she becomes Barbra. Her nasally speaking voice is true to character. She delivers the songs like a pro.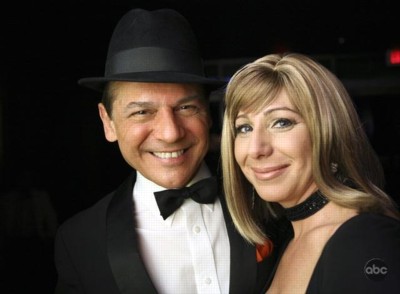 The relationship between these two is magic. Sinatra is cool and aloof, wanting to do his thing, while Streisand doesn?t let him get away with anything and takes great pleasure in pestering him, ribbing him and delivering the delicious personality she?s famous for.
Streisand wants in on the act and Sinatra tries to snub her, saying he only records alone. That doesn?t stop our stubborn and sassy Babs, who makes sure that she?s heard. Owens butts right in with ?Luck Be A Lady? which beautifully showcases her skill. She then belts out some show stoppers, while a long video sequence from ?Funny Girl? plays. Songs include ?Second Hand Rose,? ?Don?t Rain On My Parade,? ?Woman In Love? You forget that the woman onstage isn?t Barbra Streisand. The musical numbers include ?60?s Broadway and ?70?s Disco, including ?No More Tears (Enough Is Enough)? which Streisand performed with Donna Summer.
Before doing some duets with Barbra, Sinatra gives us ?I?ve Got The World On A String,? ?Strangers In The Night,? ?Come Fly With Me,? ?My Way? and ?That?s Life.? Then the duets begin. Both of them singing ?It Was A Very Good Year? while a montage showed the early years of Sinatra?s life was powerful and poignant. While the montage continues, Owens sings ?Memories.? The following duet of ?The Way We Were? is also memorable.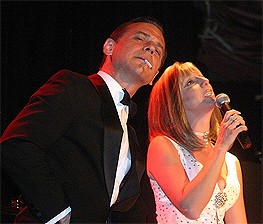 In between their witty and comedic bantering, Streisand and Sinatra entertain us with ?The Way You Were,? ?They Can?t Take That Away From Me,? ?All Of Me and ?Witchcraft.? The show ends with some more beautiful duets: ?I Love You,? ?When Somebody Knows You,? ?Happy Days Are Here Again (Get Happy?) and?Somewhere (There?s A Place For Us).? With the accompaniment of pianist Joey Singer, you can?t go wrong with ?Barbra & Frank, The Concert That Never Was?? No matter what your age, If you?re a fan of this era – this is a show you won?t want to miss. With two strong personalities onstage, it shouldn?t come as any surprise when they argue about who will close the show. You will want to know. So, come on down to the Riviera and find out.