by Lincoln Hudson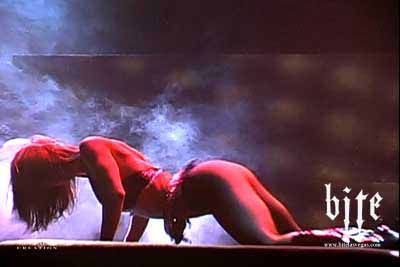 With the Credit Crunch/ Down Turn/ Recession (call it what you will) slowly draining away everyones hard earned cash as well as their morale and patience one wonders if the big fish on The Strip are getting at all nervous. At around $190 Dollars a ticket those members of the public both brave and rich enough to be visiting Sin-City must be having second thoughts about venturing into the MGM, The Mirage or the soon to be open Las Vegas CityCenter. But this is the Land of Opportunity and where some shows may be experiencing a down turn in their ticket sales others may be experiencing a joyful increase in their bank balance. X-Burlesque may still be going and the Brat Pack may allegedly be back but the Stratosphere Hotel and casino is packing their audience in thanks to a coven of so called gorgeous looking topless vampire love angels who passionately perform a titilating and roller coaster ride of a show called BITE.
These beautiful vampirish femm-fetales are a lovable and sexy looking mixture of Daisy Dukes and Victoria beckham lookalikes who all answer to such names as Tush or Pain. Naturally the leader of the coven is a beautiful and sexy adonis of man who with his false fangs and light blue contact lenses turns out to be the Vampire King. A vampire king that is who strikes a not so surprisingly similar look to that of the James Bond character DR-Death from the movie Live and Let Die. Throw in some magic coffins that make women disappear, a large black grand piano that helps the vampire ladies appear and some rather predictable rock tunes (Born to be Wild) and you have an erotic but decently priced show that caters to an audience who are very comfortably accomodated in an excellent cocktail lounge.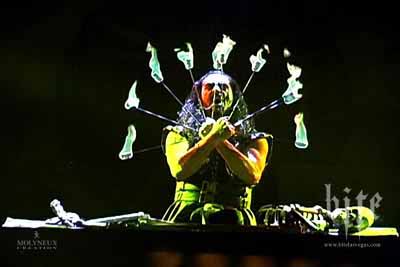 The girls though beautiful and very sexy also contrast well with each other while the show is further complimented by an excellent ariel act not to mention a lead vocalist with the perfect voice for such a show. One could however be forgiven that the false fangs and rock music is just an excuse for the ladies to show off their best assets, but as the evening progresses so does the action.
The creators of BITE I think should be congratulated for choosing the right kind of theme that would compliment a group of Artists like this, however one bizarre moment occurs when towards the end of the night the all girl coven suddenly burst into their own vampire ballet. This puzzled the audience as for most of the night the girls seemed to be performing dance that was more exotic than balletic. Eventually however the conclusion emerges in the guise of the adonis Vampire King finally finding his erotic Vampire Queen.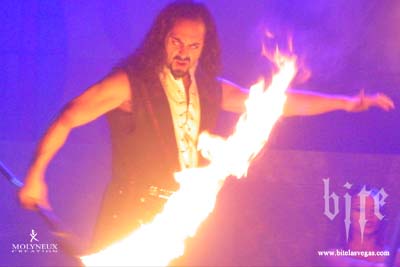 It wasn't until I saw the 1980's movie The-Howling did I finally appreciate the hotness of the topless vampire. Being seduced by a young and nubile female vampire coven I thought must be the ultimate fantasy for men (and women) who wish to grow old disgracefully. And, it must also be the ultimate secret weapon that downtown Las Vegas can deploy against the big boys in up town Sin-City.
While Bite is only a small topless revue it does possess (other than heart, passion and beautiful women) seats at affordable prices And for this you get comfort, good service and excellent entertainment.