Las Vegas Shows and Entertainment:
Chippendales
Reviewed December 2006 by Nancy Dickinson
Attention all red-blooded healthy females (and surely males): Someone has gathered all the most beautiful men from all over the world and shoved them in a Theatre at The Rio for your viewing pleasure. Oh, and they're not exactly clothed. And talented, too! Was it mentioned that they're not really clothed?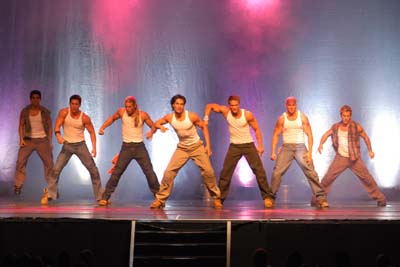 The Rio showroom is home to one of the most renowned male review shows this side of the six-pack… er… western hemisphere. Since 1981, Chippendales has been celebrating all that is MAN with the sexiest, most crowd pleasing party ever thrown. The secret to the show's success lies in the magical mixture of the unparalleled chaos from a "girls night out" on steroids (the audience) and the impeccable pecs that flood the place. On top of that, these incredible Y chromosome performers aren't all brawn; the show explores all the facets of men from the hot rugged blue collar worker to the introspective, woman pleasing, sensitive new age guy. They even have aerialist acts slipped in between the singing and dancing …per…fectly…defined…hot…muuu….scles (shiver). Oh who is anyone kidding? Take your clothes off already!
The men that look as though they walked straight out of a Calvin Klein ad start the show off with some hot choreograpy resembling a west side story battle. Latin lovers vs. the punk bad boys (though the wardrobe is definitely of no consequence). Powerful dancing complimented by seductive stares is the perfect recipe for getting the heated crowd literally out of their seats. And unbridled behavior is encouraged! As a matter of fact, a mock dating game show "Chipp shot," invites one ridiculously lucky girl on stage to go to some less than holy places with her clothing challenged date. It then becomes apparent that this is definitely not a "look but don't touch" environment.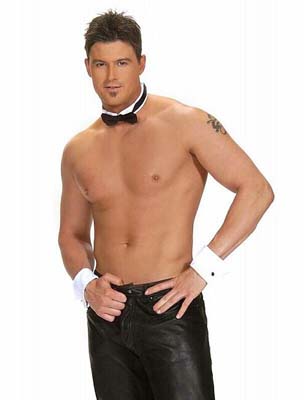 Go Chippendales Gentlemen go! Go celebrate all the personalities and hobbies that make you so individualized and appealing; from 1980's breakdancers to doctors (with a different examination itinerary) to cowboys to dirty, sweaty handymen (just don't forget to wear only the tool belt). A little adrenaline never hurts sex appeal as well, which is exactly what is demonstrated in a mind-blowing aerialist act. Two of the most perfectly carved male physiques fly through the showroom with a ribbon act protected only by their own strength (no nets). The artistic and death-defying result is one of awe and literally sizzling.
And yet, even after all the different types of displays of raw man talent, the best is still yet to come…the end of the show. Chippendales then modestly encourages everyone to come up on stage, chat with all the guys, and take photos. Are these statuesque figures really human? Absolutely, flesh and blood, perhaps even have a personality or maybe a flaw or two. Still, a casual encounter or subjection to their steamy selves under the house lights still provokes the same result… a very cold shower.
No related links found