Las Vegas Shows and Entertainment:
Circus Circus Adventuredome Show Tickets and Reviews
Circus Circus Adventuredome
Reviewed January 19, 2000 by Ted Newkirk
The average Las Vegan only gets out to the Strip when guests are in town, and then grudgingly because their friends don't understand that a resident can't drink and play $10 a hand blackjack until 5 AM, or drop $100 on a show without any thought.
So, next time you hit town and call up your local friends, suggest heading over to The Adventuredome at Circus Circus. It's the perfect theme park for Las Vegas. The big pink dome is huge, giving it an outdoors feel, but is climate controlled making it perfect on days when we hit those extreme high or low temperatures. Plus, your vacation time is valuable and you can see and do everything in 2-3 hours and be on your way without
emptying your wallet.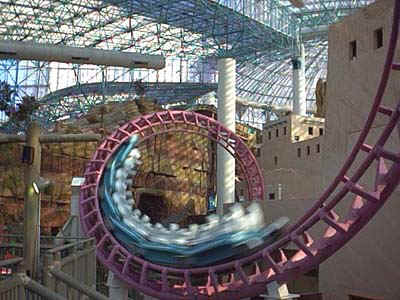 The centerpiece of the park is the Canyon Blaster rollercoaster. It's the only indoor double-loop, double corkscrew rollercoaster in the United States. More built for finesse than speed, this doesn't have that "first big drop" like the one at New York, New York or the 200+ foot drop of the Desperado at Primm. But, it's a lot of fun twisting and looping and it shakes you up pretty well.
If you feel the need for that plunging burst of speed, the other major ride is the Rim Runner water flume ride. After a fun float around the park, this ends with a splashing drop of over 4 stories! And yes, you are going to get wet. Go on this first so you can spend the next half hour drying out.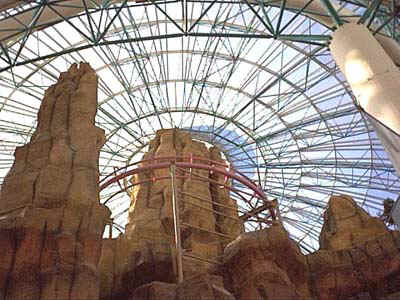 If you enjoy a ride that is designed to just really get you sick, The Inventor takes you 50′ in the air while flipping you around 360 degrees. We were content to watch, but people looked like they were having fun.
If action / adventure is more your style, you won't be left out. A laser tag arena lets you combine forces for a battle in a darkened cavernous area. They have a batting cage or you can enjoy Xtreme Zone, and area with rock climbing and trampoline bungee. If you are an IMAX fan, the "Fun House Express" is a strange and wild clown-themed experience. If you need to get knocked around a little, they have bumper cars as well.
Long time readers know we don't suggest bringing the younger kids to Las Vegas. There isn't much for them to do and see, and parents spend their whole vacation thinking how much fun they could have had just as a couple. But if you bring them, the Adventuredome is a must whether they are 5, 10, or 15. The free clown shows at noon, 1:00, 3:00, and 4:00 PM (with hourly shows from 6-9:00 PM on Fri. and Sat. evenings) even put a smile on my face.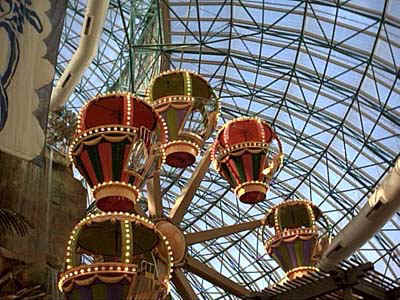 The park has the prerequisite carousel as well as a kiddie rollercoaster, "balloon ride" Ferris wheel, junior airplane ride, and swinging pirate ship ride. It's not unlike the local county fair, except that the Adventuredome is clean, neat, (one would assume) well-maintained, and the people operating the rides don't look like they spent all night doing drugs instead of doing their laundry.
Scattered around the park are arcade games, games of skill (knock the bottles down for a prize, etc.), build your own arts and crafts, face painting, hair braiding, and food.
Single ride tickets are available ($2-5 depending on the ride), but unless you are short on time and just want to hit the coaster, buy an all day pass. It's only $16.95 for those over 48″ and $12.95 for those 35-48″. You must be 48″ tall to ride the "thrill" rides and 42″ tall for IMAX, laser tag, and the swinging pirate ship. We came about noon on a weekday and experienced no lines.
Adventuredome is located in the rear of Circus Circus, just off their rear parking garage and the new shopping and food area (which is probably the nicest part of a casino that could use a little sprucing up). Hours vary by season, so make a quick call ahead of time to (702) 794-3939 for recorded information.
No related links found