Las Vegas Shows and Entertainment:
Clint Holmes Show Tickets and Reviews
Clint Holmes at Harrah's Las Vegas
Reviewed February, 2006 by Nancy Hruska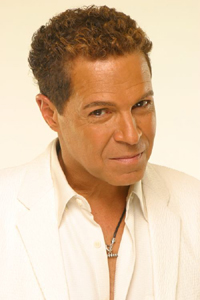 Though Vegas is known for shows where nearly anything goes, few entertainers would dare to mix musical genres such as Opera, Salsa, Broadway, and Jazz. Clint Holmes, however, has taken that road less traveled and the result is revolutionary enough for Rolling Stone to call it, "One of the most complex musical shows ever."Any recognition such as that could cause a performer's head to swell, but Clint Holmes views his talent a little differently. He constantly attributes the success of his show to his cherished (and most dynamic) band, his family, and the cultural diversity of his upbringing. His energetic and deeply personal show is a journey through music that takes even Las Vegas by surprise.This show is dedicated to all one of a kind entertainers and artists. Slides of Bill Cosby, Frank Sinatra, and Sammy Davis Jr. envelope the showroom. Clint opens with some songs by greats such as Sam Cooke, Marvin Gaye, and Ray Charles before immediately introducing his sister and singer, Gayle Thompson-Steele then his best friend and band conductor, Bill Fayne.After the formalities, no time is wasted before a little Latin Heat is turned up. Steel drums warm up the room with bongos, congos, horns, and Lead Guitarist Jerry Lopez's impeccably strummed Flamenco chords. During the song "Canta con Migo," it's difficult to see how many band members there actually are, as they fluidly move in and out with new instruments constantly reinventing their outrageous sound. And Clint, no doubt, is the first to boast his band is nothing short of eclectic, able to play anything.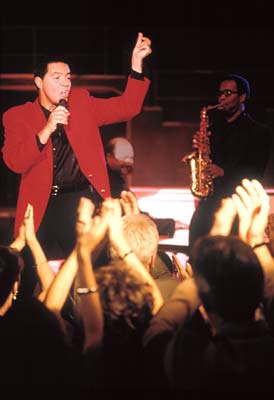 The mood slows a little for Clintis original song, "1944" about how his parents met. "Mom taught me how to sing correctly, Dad taught me how to enjoy it," he proudly states. A personal trip into his upbringing is centered around his parents' inter-racial relationship and a tribute to this controversial issue during such a time takes form in a piece from Broadway's "Golden Boy," sang by Clint and the lovely Natalie Caprano.
And the musical culture doesn't stop there. Toes start to tap and fingers snap as audience members are taken deep into the Jazz world (Clint's Father's influence). Clint and his sister have a comical banter around "skat singing," where Clint takes an ordinary bib-id-ibop to a new indescribable level. Then Clint's Mother's hand in his musical range is just around the corner when a piece from Phantom of the Opera is let loose.
With eight original songs, one in which even dares to express the feelings from his own brush with Cancer, Clint Holmes is not afraid of taking chances. Audience members are moved from one end of the musical spectrum to the other, experiencing electrifying sound, culture, and one of a kind showmanship. Nothing hides behind special effects to which all that one sees is what makes Clint Holmes, Clint Holmes- timeless music, band mastery, and humbly instilled true talent.
No related links found