Las Vegas Shows and Entertainment:
Cook E. Jarr Show Tickets and Reviews
Cook E. Jarr – Las Vegas' #1 Lounge Entertainer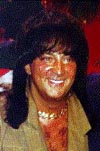 He's the ultimate showman. He's the entertainers' entertainer and he's at Harrah's on the fabulous Las Vegas Strip. Cook E. Jarr, King of America's Lounges is performing at upstairs at Harrah's every Friday and Saturday at Midnight. Get those dancing shoes on and get ready to party the night away with Cook E. Jarr!
Cook E. Jarr has been voted Number One lounge performer more times than any other performer in the history of Las Vegas. He is well known for attracting big-name celebrities to his phenomenal performances.
The flamboyant performer has entertained Tom Jones, Liza Minelli, Oprah Winfrey, Montel Williams, Ricki Lake, Quentin Tarantino, Andrew Dice Clay, The Righteous Brothers, The Beach Boys, Frankie Valli, Grace Jones, Kevin Pollak, Paul Shaffer, Martin Short, Dennis Miller, George Carlin, Sheena Easton, Pete Rose, Riddick Bowe, Marvin Hagler, Sugar Ray Leonard, Jimmy Alec, Dennis Blair, John Caponera, Howard Cosell, Kool & The Gang, Michael Bolton, Whitney Houston, David Copperfield, Claudia Schiffer and countless comedians.
What makes The Jarr so popular among famous celebrities, Las Vegas locals, and tourists? One glimpse of his show and you'll know why!
One of the reasons for his popularity is the man lives the Vegas life-style. "I'm a big gambler. People who come to see the show are in for a great time! I keep the crowds energized with a wide variety of music. I have so much fun, it's not just singing and dancing, it's one big party!" Jarr said.
He often starts his show with personally greeting the audience with high fives and handshakes. As soon as he hits the stage, the party begins.
His popularity also reached national attention. Popular music channels MTV and VH-1 interviewed Jarr for their rock 'n' roll specials. Cable TV station Comedy Central enjoyed their time with the Jarr so much — they have repeated his interview on the "Daily Show" several times.
Jarr can create the intensity and full sound of a large dance band. The night club atmosphere with his charismatic style will dazzle the audience! The charismatic performer keeps the audience glued to the stage with his unique vocal impressions and dazzling stage presence. The Jarr is seen in tailored jackets and adorned with diamonds and gold.
No where else will you find a show that combines the best modern music with the old standards and even some classic impressions of Las Vegas favorites including Dean Martin, Sammy Davis, Jr. and a hysterically funny Jimmy Durante. Cook E. Jarr's fans are legendary for their loyalty to him and after his performance you can see why!
Cook E. Jarr performs outdoors in the Carnival Court at Harrah's every Friday and Saturday evening at Midnight. No cover, 2 drink minimum. His latest CD "Almost Grown" is available at his show. For more information, call Cook E.'s Hotline (702) 737-PROA.
No related links found