by Denise Almas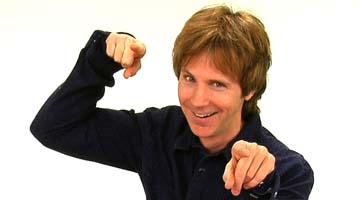 Fresh and mature is the oxymoron that best describes Emmy award winning comedian Dana Carvey. This comic who enjoyed a seven year run on Saturday Night Live and may best be known for his portrayal of ?Garth? in Wayne?s World, has matured with his comedy, bringing wisdom to his stand-up performance that attracts a diverse crowd. Entertaining young adults to senior citizens, Carvey delivers laughter on almost every subject, drawing inspiration from current events as well as his own life.
Before entering the stage, the audience giggles at a short video of Carvey?s earlier work, which includes the Church Lady, Hans of Hans and Franz, as well as his impressions of George Bush, Sr.
The Carvey of ?Then? is still much a part of Carvey today, as he still enjoys impersonating Bush Sr., as well as Bush Jr., even making himself giggle ?What a freak show that was!,? Carvey exclaims about the most recent Bush Administration. Of course, he then quipped that the current Congressional leadership is a ?freak show? as well, and he admits he is not quite sure what to make of Obama, a President who can give a ten-minute answer to a single question.
Carvey?s appeal however is not in his ability to portray Presidents, but rather in his ability to keep his material fresh and up-to-date. Unlike many comedians, Carvey has evolved with his art and allows his maturity into his act, making his comedy more real and accessible as he discusses the trials and tribulations of having teen age children, as well as the realization of the passing of time when he received his AARP card. Glimpses into Carvey?s personal life makes his show more enjoyable and entertaining. The older crowd can relate to having teen children who have suddenly decided that their parents know nothing. The younger crowd can remember thinking that their parents knew nothing when they were in high school. Is this really fresh Absolutely. Carvey is keenly aware of current events and this shines through as he touches on the universal experience of family life.
From politicians to ordinary people, no one is safe from Carvey?s incredible voices, quick wit, and improvisation. As a caveat, if you do not want to be picked on, do not sit in the front row at his show. Like many comedians, he will ask about your life and turn it into a joke; however, he may also want to sing about it. Carvey has an incredible knack for quickly turning personal information into a fun folk song. Indeed, Carvey loves to strum the guitar and sing a tale of woe. As Carvey would say, ?What a freak show!?