Las Vegas Shows and Entertainment:
David Brenner Show Tickets and Reviews
David Brenner
Reviewed Feb. 11, 2004
by Ted Newkirk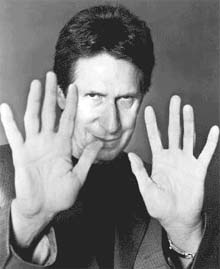 Our not-so-young-anymore readers will remember David Brenner as the innovative comedian who made a record 158 guest appearances on Johnny Carson's Tonight Show. Our "just turned 21" readers are probably going "someone hosted the Tonight Show before Jay Leno?"
David Brenner was an innovator in observational comedy ("I read in the news the other day …") and hasn't lost his touch. His show should be required viewing for up-and-coming comedians.
Brenner has settled in for a year-long stint at the new Westin Casuarina, taking time off from the road to be with his family (a la Celine Dion) but it hasn't slowed his work ethic. He combs the newspapers, cable news, reality shows, and just about everything else in news and pop culture assuring that his show has punch, is up-to-date, and doesn't let up.
I won't give away the jokes, and I couldn't because you never see the same show twice. But I will tell you that I haven't laughed so hard in a long time, literally being brought to tears twice!
This is a chance to see a famous legend still in his prime, and well worth the (very) short trip down Flamingo Road to the Westin Casuarina. (The Westin is closer to Bellagio than The Rio and Palms are, although in the opposite direction from The Strip).
Brenner is not a dirty comic but occasionally uses adult language to punctuate a point. I'd probably suggest 16 and over to view the show. The only people who should avoid it are those clueless about current events. If you don't live in a cave somewhere, you'll probably enjoy Brenner.
No related links found