By Sarah Harris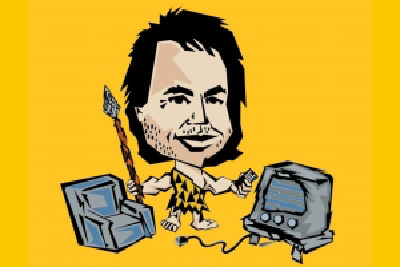 "Defending The Caveman" is by far one of the funniest shows on the Las Vegas Strip. The fun starts even before the show! Stroll on into the showroom and you'll be greeted by a caveman and a cavewoman, who will pose for pictures with you. "Defending the Caveman," a one-man show performed by Kevin Burke, is about the inherent differences between the sexes and how we relate to one another. The show was conceived and written by comedian Rob Becker and has been performed across the country and is now being performed across the world. We're lucky to have it here in Vegas permanently. "Defending the Caveman" holds the record for the longest running solo show on Broadway.
According to Burke, there are so many basic and primitive differences between men and women that we speak different languages, have different customs, and at times live in different worlds. Separate worlds in fact. And there's a physical reason. While women have brains that allow us to multi-task ? it's no joke ? our corpus callosums works differently. While messages go back and forth between both sides of our brains, this doesn't occur as much in the brains of men. As a result, men can only focus on one thing at a time.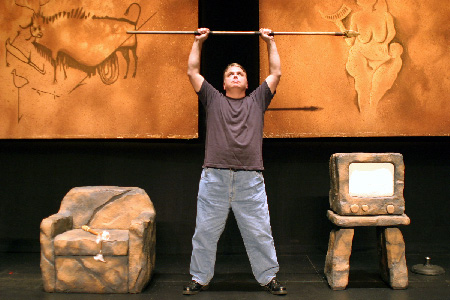 Kevin Burke takes us back to cavemen times when we had more defined roles. Men were the hunters and women were the gatherers. As a result, we had different jobs and purposes. While modern society has mixed things up a bit in our roles, we relate to each other differently. We relate to each other (men to women, women to men) in what we know and how we'd like the other person to relate to us. This is where the confusion comes in, as well as the comedy in this hilarious show. The first thing that women do when they get together, is compliment each other on how we look. Men, in Burke's book, insult their friends upon getting together as terms of endearment. The mistake that most couples make in today's world is thinking that when we marry that we form one gender, instead of facing the inevitable ? that there are two.
Burke's analogy of the Caveman trying to tell us something about men and women is brilliant and quite true. The way he conveys it is truly funny and entertaining. He invites us to take a look at children. Women when they're little girls will play house, which consists of pretending to do chores. Young girls, he also observes, enjoy playing jump rope. It doesn't occur to a girl to tie someone up with that rope.
"Defending the Caveman" lets us laugh at ourselves about the ways men and women fight, and ultimately love each other. Do yourself a favor ? whether you're visiting Las Vegas or if you live here ? go see "Defending the Caveman" at Excalibur. It's a gem of a show.