By DW Grant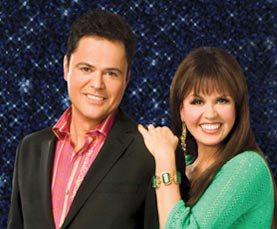 Donny and Marie, HOT? Oh, yes, and hand me a tissue to wipe my brow.
Donny and Marie Osmond are sizzling at the 750 seat Flamingo Showroom on the Las Vegas strip. They are still incredibly energetic and entertaining at ages 49 and 51, even after more than 5 decades of stage performances all over the world, on TV, in movies, and on Broadway. Despite premium ticket pricing and killer economic times they are playing to full houses, and really giving their all for their screaming teen-like forty to fiftyish baby-boomer fans.
The show is amazing and wonderfully exhausting. Nutra-Marie walks out on stage appearing more svelte that a mother of eight ever should look, and all over the room men gulp the word "wow," under their breaths. Ageless Donny walks out and women become 12 or 13 again, jumping from their seats to stretch out their hands and scream for his touch. Somehow after all these years they've gone from a cute brother and sister act to sexy and sazzy sex symbols. Both Donnie and Marie stir up the madness further by singing in the audience and walking on tables to touch and torture their D&Maniacs.
We can't help remember who they were before this show because forever behind them play video reminders of their journey. We see pictures of 4 year old Marie sitting on Uncle Andy's lap, performing with almost every star of the last 5 decades, and her wilting performance on "Dancing With The Stars." We also see 5 year old Donny dueting with Uncle Andy, rocking with his brothers to hit record after hit record, his Dreamcoat years on Broadway, wearing long hair and Elvis-like costumes, winking at screaming teens, and promoting his fifty-first and latest album.
Not that younger people wouldn't enjoy the show, it's a great clean family experience. But maybe being able to understand the lyrics and watching older folks swoon like ?tweens would put them off just a bit. Let's rate it "E-13" for "Everyone, but minors should have a driver's license so they can transport their intoxicated parents home."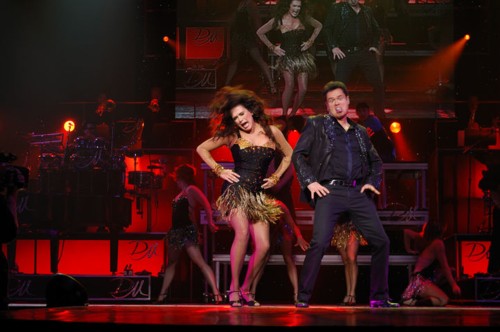 After opening with Donny, Marie solos first singing her greatest hit "Paper Roses," of course. Next she goes step for step with backup dancers who are young enough to be her grandchildren, and they have to keep up with her. She dances, sings, jokes and teases the audience and works her way through Boogie-Woogie, show tunes, and edgy pop rock numbers. Her most surprising offering, however, is the introduction of the newest love of her life, Opera. Marie is amazing again and beautiful in voice and style.
Donny's solo set is pure charisma and a joyous outpouring of zesty showmanship. Donny is well trained and properly voiced in every song. He never "croons," but still delivers every familiar tune with deep affection and feeling. His adoring audience responds in kind. After "Puppy Love," "Soldier of Love," and "Any Dream Will Do" Donny gets to break out and whack the audience with a little Acid Osmond-Rock. "Crazy Horses" slams and spins out over the edge of conservative sanity and really delivers the fun, if not the absurdity of harder rock songs.
When Donny and Marie come back together they joke and tease and poke at each other like brothers and sisters, and compete against each other in a "Westside Story" like dance competition that even takes their breath away. Here the question is answered that everyone is dying to ask. Yes, Donny is thinking about competing on "Dancing With The Stars," and the crowd goes wild.
The show literally ends with a bang as party string is shot out over the showroom and the audience screams for more. Of course they get their encore, and the sizzle continues in the hearts of the D&Maniacs as they pour out the showroom door.
"What Las Vegas has been missing is a true variety show that conveys the real essence of America and the country's love of homegrown talent," said the late Danny Gans, winner of numerous "Entertainer of the Year" accolades, and producer of this show. "When you couple that element with the current Las Vegas entertainment landscape, we feel Donny and Marie provide the perfect combination and something no one else is making available."
Donnie and Marie perform at 7:30pm Tuesday through Saturday at the Flamingo Hotel.