Las Vegas Shows and Entertainment:
Fashionistas Show Tickets and Reviews
The Fashionistas
Reviewed May 2007 by Nancy Dickinson

The Empire Ballroom is the perfect dim and cozy sexual sanctuary for Fashionistas. With a slight Gothic and tastefully burlesque feel to the showroom, the place urges a "show some skin" attitude (and a little leather never hurts anyone either). Large, inviting red couches allow audience members to let it all hang out, but the enormous and grand crystal chandeliers above remind everyone that no matter how far things may dip where the sun don't shine, there still needs some class.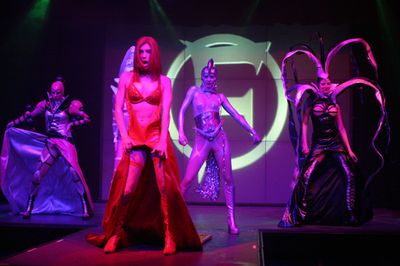 The fashion industry probably didn't know the raw passion it could spawn through music, story, and dance…but leave it to Vegas to bring forth the goods.
Fashionistas, a hot seam ripping new show at the Empire Ballroom is based on tales of an innovative fashion fetish company, vivacious women seductresses, and the domineering love triangles some very sexy (and certainly masochistic) characters have managed to sew together. The result stitches a new, dark, seductive face upon the fashion industry that is unafraid of celebrating shape and form in all things fabric and flesh.
?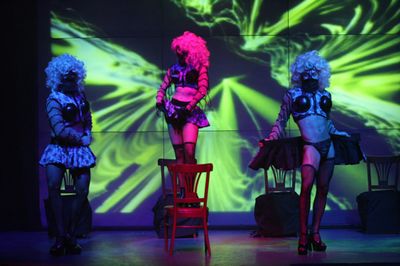 A faux fashion show starts off the material madness; complete with lanky, nose in the air runway models in light, colorful dress. The show takes a satirical turn as the music cuts out and the stage is overthrown by hard female bodies in black leather bondage. Spitting and frothing, these girls are ripping out hair to metal music and representing the veritable yin and yang of fashion. Or perhaps, conventional fashion and it's evil twin. Both sexy nonetheless.
For some true Vegas show spirit amongst flinging fabric, an aerial act ascends and descends above the crowd provoking awe from all. Two incredibly built women demonstrate the most intense display of strength and sexual power as they weave themselves through a soft thick ribbon hanging from the sky. Their very naughty, very flattering garments consist of what just looks like a bunch of leather straps enveloping a perfect shape in all the right spots. The contrast of the tough leather rubbing vigorously against flawless silk states that even though they may be opposites to the touch, they still work
beautifully together.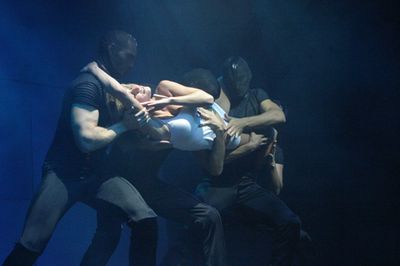 A few other factors of fashion, however, raise no question as to if they're wearable…strappy shoes and a nice rack. A hot number about a clan of gorgeous seducing a shoe salesman makes everyone watching truly heated in their heels. And large breasts are all the obsession in the fashion world inspiring a quirky cheerleading routine to an Electronica music song, "I Must Increase my Busts!" And the clothing chaos doesn't stop there.
Bizarre, new age, satirically space age fashion forward costumes roam the stage while domineering acts of seduction make toes curl throughout the entire show. Obviously, Fashionistas is insisting that fashion carry no boundaries in it's sewing kit. Sexuality, layered on the right fearless fabric, with even a little lovin' leather stitched in, definitely makes a very wearable outfit.
No related links found