Las Vegas Shows and Entertainment:
Folies Bergere Show Tickets and Reviews
Folies Bergere
Reviewed October, 2006 by Amy Raynor-Cooley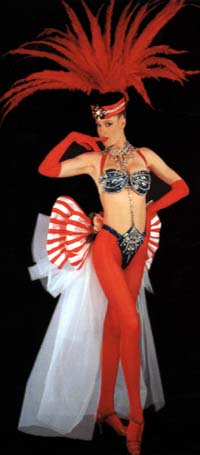 What's a night on the town in Las Vegas without seeing a show? Folies Bergere at the Tropicana provides a fun, entertaining diversion from gambling while giving you the feel of a classic, Vegas evening of days past.The opening sequences feature the dancers in traditional showgirl apparel with large feathered headresses and sequined costumes in an exciting display of lights, music and dance. From the lighted staircase to the ladies being lowered from the ceiling on ornamental swings, the props were as amazing as the dancing.From there Folies Bergere transports the audience on a retrospective of song and dance through the years. Starting with belles of the ball in the 1850's dressed in period ballgowns and moving on to a beautiful ballet duo dancing in the winter forest. Through the 1920's we are enthralled with the flappers and vamps which soon moved on to the Hollywood Glamour of the 1930's. Rock and Roll hits the show in the 1960's along with a vintage Chevy rolling across the stage.
Comedian Michael Holly was one highlight of the evening. Starting off his set by pulling out a bowling ball and joking about juggling it had me a little skeptical, but that skepticism didn't last very long.
We laughed through his entire set and wished we could have seen more. He is truly funny and a great addition to the show.
The show started winding down with dances and costumes of a more contemporary and seductive nature and the finale was a spectacular rendition of the classic French Can-Can. The acrobats and dancers provided such a lively routine full of tricks, you would think it was the opening number.
Folies Bergere is a great show for both Vegas newcomers and veterans (our group contained both and everyone enjoyed the show immensely). The performers kept things moving so swiftly, it didn't feel as if we had been there for 90 minutes. The next time you're in Vegas, Folies Bergere is a must see!
No related links found