by Devon Brooke Clasen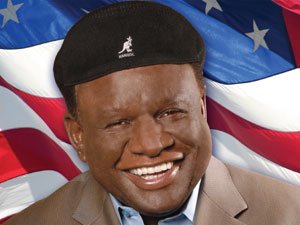 George Wallace has been thinkin?, and his audience is privy to the hilarious results in his show, I Be Thinkin?, in the Flamingo Hotel Showroom.
Attendees are treated to a classic show experience similar to what visitors of Vegas? heyday must have experienced. Guests aren?t merely herded into a huge theatre constructed with hundreds of seats. Instead, a more genteel, supper club atmosphere is arranged in the showroom, more conducive to a comedy or variety show. The line meanders through the casino and into the showroom, a testament to Wallace?s popularity (as witnessed by his show having been voted best 10 pm show). A tuxedoed maitre ?D greets guests and politely ushers audience members into the intimate yet comfortably sized showroom, where vintage banquette seating houses groups of three to eight, ideal for attending with family, friends and coworkers.
Additionally, several long tables flank the stage and provide seating for about 20 people each, no doubt providing prime material for Wallace?s largely improvised performance. Be warned: if you choose stage-side seating, you may become funny fodder for the comedian?s act.
Opening the show, an a capella band of six young men called Mosaic serve to warm up the audience for 10-15 minutes with impressive musical melodies performed entirely without instruments, after which time a dashingly dressed Wallace joins the group on stage and begins his comedic banter. After his good-natured assault on the band, Wallace turns his attention to his audience. (Editors Note: Wallace may or may not have an opening act and the act is subject to change).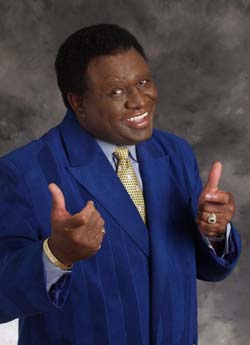 Wallace playfully teases a select few audience members, usually the ones making the most noise. If you?d prefer to be excluded from his mockery, don?t draw attention to yourself or sit further back in the theatre. But Wallace?s jokes and jibes always remain innocuous and well placed, and offense need never be taken.
Running the gamut from topical humor and regional ridicule to commonplace curiosities and Seinfeldian observation, it seems Wallace can make fun of anything. Sometimes sharp, sometimes silly but always funny, Wallace also ventures into more edgy comedic territory, and no one is safe from his onslaught. From midgets to the elderly, from cops to yo ?mama, Wallace?s material remains relatable and relevant yet uproariously raucous. Touching on religious humor, Wallace often invites self-described gospel singers from the audience to join him on stage and belt out a spiritual hymn, an unexpected but uplifting departure from his biting barbs.
Closing the show, a few lucky audience members are rewarded with giveaways such as DVDs, gas cards and even cash; evidence of Wallace?s appreciation and generosity towards his fans. Wallace then stages outside the theatre to meet and greet his fans in a gesture of accessibility and availability not often found elsewhere in Las Vegas.
A refreshing and nostalgic departure from the ?New Vegas?, George Wallace?s show and indeed the whole experience recall the retro days of supper clubs, variety shows and pure, unrehearsed, unscripted entertainment. Its Las Vegas as it was and should be again: The Entertainment Capital of the World, indeed.