by Sara Steinberg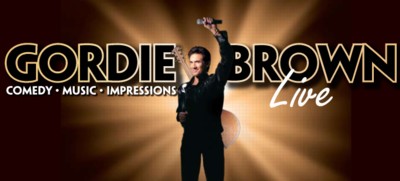 Impressionist, singer and entertainer Gordie Brown takes you on a wild ride, in his show ?Gordie Brown Live? at the Golden Nugget, and you won?t want to get off. Most of the show is made up of songs heralded by famous musicians and spoofed by this amazing talent. In addition to his phenomenal mimicry, Gordie replaces the song lyrics with his own and you can?t stop laughing. Brown is backed by a talented band.
He nails Randy Travis singing without moving his lips, jumps around the stage as an aging Mick Jagger, shows us what an oversexed Tom Jones looks like and hurts himself in order to reach the high notes as Joe Cocker. We hear Bruce Springsteen?s take on Internet Dating, Barenaked Ladies ordering a meal with Chris Isaac finding a roach in his soup. Brown moves seamlessly from performer to performer, poking fun at the idiosyncrasies that set each one apart. One of the highlights of the show is of Sean Connery, Ray Romano, Nicolas Cage, John Travolta, Christopher Walken and Chris Rock all auditioning for the role of Batman.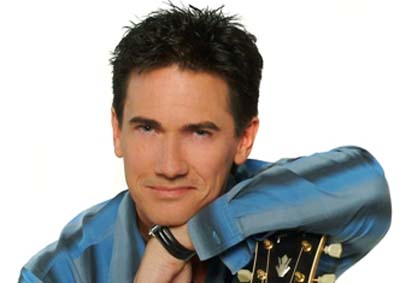 Brown doesn?t let the politicians off the hook either. During a hilarious spoof between Arnold Schwarzenegger as the Terminator, who has trouble reading and needs ?Hooked On Phonics,? and George Bush who lacks brain cells, Gordie Brown?s genius lets loose. The result of his clever and quick mind is humorthat is a delight to watch. His impersonation of our new president, Barack Obama, talking with his hands is dead-on. If Jesse Jackson had become our first black President, he?d still be giving his inaugural speech. We also get to see what it would?ve been like if Bill Cosby had been elected. And the best part is ? none of it is offensive as it?s done in great fun.
Then it?s back to the music. Brown?s take on the Rat Pack include a cross-eyed Sammy Davis Jr. singing ?Mr. Bojangles? and Frank Sinatra crooning ?I?ll Do It My Way.? Impersonations of Jimmy Stewart and Katherine Hepburn are hilarious. Louis Armstrong?s ?It?s a Wonderful World? sung by Gordie is flat-out amazing.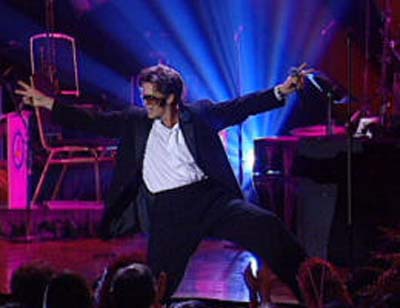 This talented performer shows us what it would?ve been like if Coldplay had written the soundtrack to ?Brokeback Mountain.? We see how Billy Ray Cyrus? ?Achy Breaky Heart? could morph into the Barney theme song, and instead of Willie Nelson singing ?To All The Girls I?ve Loved Before,? it?s much funnier when he replaces the lyrics with ?To All The Plants I?ve Smoked Before.? Imagine Usher as a theater usher, Vanilla Ice as a white rapper and a white dancer, and Neil Young ? not so young, but practically on his deathbed. Vegas Icon Wayne Newton is made fun of for building a $30 million fence for his penguins who can?t fly.
Brown has received rave reviews by both critics and audiences alike and you?ll see why. This is one of the best shows in Las Vegas which you won?t want to miss. Gordie Brown can be seen at the Golden Nugget every Tuesday through Saturday at 7:30 p.m.