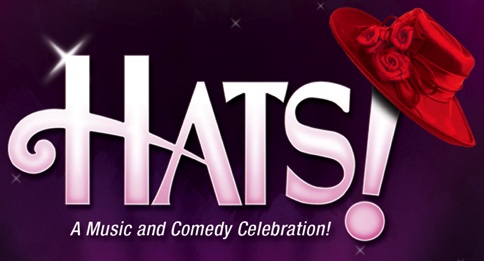 HATS! – Las Vegas Show
Reviewed March 2008
by Terri Feld
A life-affirming musical review inspired by the The Red Hat Society. Founded 10 years ago in California, the RHS is a diverse network of women 50 years and older who meet for outings dressed in colorful purple clothing crowned with red hats. Today nearly 40,000 chapters exist throughout the U.S. as well as 30 other countries. HATS! the show promotes the organizations' mission of maintaining a positive outlook on aging, by emphasizing sisterhood and the empowerment of maturity.
At least a dozen genuine Red-Hatters in full regalia comprised part of a recent Sunday matinee audience dominated by fellow female fifty-somethings. The intimate venue consists of floor seats and table banquettes, giving audiences optimal accessibility to the performances throughout this one-act production.. Ushers point out the bar located at the rear, however, purchasing drinks is not required. In fact, despite signage to the contrary, they gallantly wave me and my Starbucks to our seat.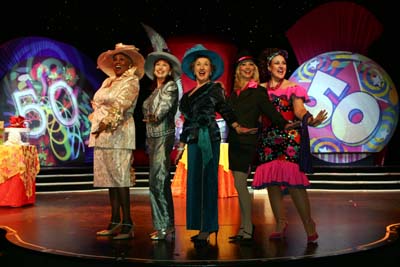 Frank Sinatra croons on the soundtrack greeting theater-goers upon entering, immediately setting a tone and connecting with the majority generation of audience. Praised by Whoopi Goldberg as, "something really magnificent," HATS! does not feature fancy stage gimmicks, sexy sirens or acrobatics for its appeal. Instead, the strong ensemble cast, backed by a tight four-piece band, keeps audience members' attention with solid performances and an upbeat theme: life can and should be embraced ? no matter how old you are!
Mounted around the premise of Maryanne's dreaded 50th birthday, the Lady (an older mother figure), the Duchess (a jazzy matron), the Baroness (a mature business woman), the Contessa (a comedic spitfire), the Dame (an empty-nester) and Ruby (a 50th birthday fairy god-sister) all offer words of wisdom and encouragement for the big 5-0 and beyond. From the opener where the women proclaim they're "fifty and feeling fine" to the Duchess' show-stopping "I Feel Hot," powerful vocals and stage presence give full justice to the clever production numbers, complete with ably performed choreography. Yes, the ladies still have some moves! Check out the "Can-Can" routine.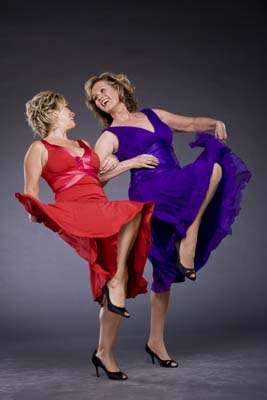 While not lavish, the production makes effective use of handsome, movable sets, as well as many eye-catching costume designs. The latter, while not inappropriate or cheesy, manages to show each performer off to best advantage, thereby reinforcing the theme that older truly does mean better for these gals, and anyone willing to embrace the show's fun-loving theme. You can't help but leave HATS! smiling in response to all the positive philosophy delivered via catchy tunes and clever lyrics.
With Grammy, Golden Globe and Tony award-winning artists such as Susan Birkenhead, Kathie Lee Gifford, Melissa Manchester, Henry Krieger, Pam Tillis and many others, the show's soundtrack proves a succession of can't miss crowd-pleasers. Each musical number tackles a different aspect of the "advancing age" dilemma including empty-nest syndrome, widowhood, even dating , and of course the proverbial Hot Flash. To the credit of all, these sensitive and potentially awkward topics get treated with tasteful humor and the utmost class. Audience members chuckled and concurred with the sentiments expressed throughout the production.
Mature ladies, and anyone who enjoys what Variety dubbed, "a feel-good show that's really about feeling good," should grab a red hat and come join this spirited celebration of birthdays, life and fulfillment at any age.