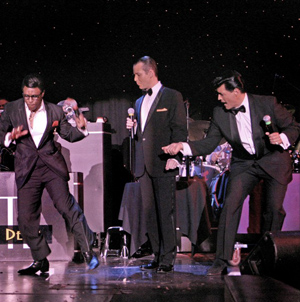 by DW Grant
Returning to 1962 to catch the greatest act in Las Vegas history is now as easy as buying a ticket. "The Rat Pack is Back," The Sands has been resurrected, Las Vegas has only one sensational act, and the production is as hot Vegas has ever been or may ever be.
Forget about blue men, tumbling clown shows, red pianos, and all Elvi. Sizzling hot Vegas nights have returned and the chaotic Corporate Canyon has been turned back to a dazzling Neon City again. The show room is gaudy red curtains, dinner booths and tuxedoed waiters dashing from table to table. The New York strip steak is worthy of praise and the live 13 piece orchestra warming up behind the half circle of gold waterfall curtains is ready to pump out gobs of showroom glitz.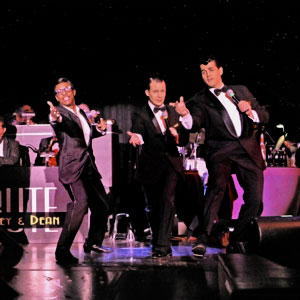 Smoke hovers around the chandeliers and stage lights and suddenly the unseen presence of "Old Blue Eyes" is in the room. It's enough to start goose bumps racing up and down your old bow tie. A voice booms out of somewhere and declares "During the show still photography, drinking, gambling, and carousing is not only allowed but enthusiastically encouraged!"
You know right away this IS your father's cabaret show.With a snare drum riff the orchestra kicks off and out comes Joey to tell a few off color jokes and harass the audience. Ok, Sandy Hackett doesn't look a whole lot like Joey Bishop, and his jokes may make you blush, but this is a "Tribute" not a impersonation show. This is also as close to 1962 adult humor as we are going to see and hear, so go ahead and laugh, even if you're from Wisconsin and you're a little embarrassed by the word "Viagra." Sandy, son of the late great Buddy Hackett, is a terrific comedian in his own right and does Joey proud.
Dean comes out next singing ?When You're Drinking?" a knock off of "When You're Smiling." He looks very bombed, of course and tells jokes like "Well ah went on The Whiskey Diet recently. In one week I lost 3 days. Whoa!" You can't be Dean and not sing "That's Amore" and he does, inviting the audience to join in. Drew Anthony is a young Dean, but a very capable one, whether singing, dancing on one leg, or hoisting a giant martini glass.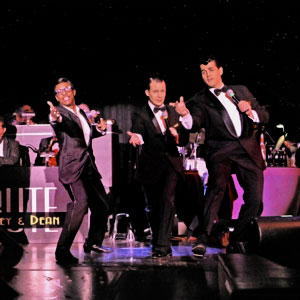 Sammy is on stage next, his shark skin is shiny blue, and he just about takes over the show. And it would be Sammy's show if Dean didn't keep butting in and Joey didn't try so hard to make Sammy look small, but that couldn't happen to Sammy. "That Old Black Magic" comes out big and as smooth as silk, and "Mr. Bojangles" still brings a sad joy to the heart. There is something electric about Kyle Diamond's performance. Perhaps it's the excitement in his eyes and the pure Sammy Davis Jr. energy that he pours out onto the audience. He makes us as glad to be in the audience as he is glad to be on stage. Now that we've been blushed by Joey, boozed by Dean, and seduced by Sammy, we know we will not be disappointed with Frank.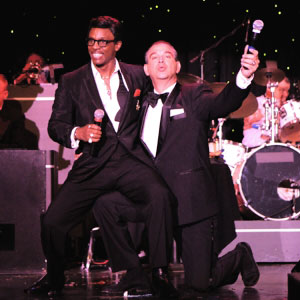 In contrast to the goofy antics of his buddies, David DeCosta walks Frank Sinatra on to the stage with an authority that ends all questions to who is the real star. Looking suave in his expensive grey suit with the small red triangle handkerchief in his breast pocket, he commands and corrals the other players into now participating in HIS show.
After belting out "That's Life" Frank invites his cast to "pull up a stool and sing some songs." It's vintage Rat Pack with old songs and a few updated jokes, which they would probably tell today about 21st Century politicians and subjects like AFLAC and Brokeback Mountain. Of course the evening ends with Frank delivering "My Way" his way to big cheers from the audience. DeCosta's solid command of his character, spot-on Frank singing voice, and his pretty blue eyes (my wife says), justifies the anticipatory goose bumps.
Note: "The Rat Pack is Back" rotates actors at times so you may be enjoying other players at your performance. I heard someone named Marilyn showed up at a later show, darn! Maybe that's why the cast seemed to be picking on blondes in the audience all night. Our players were Kyle Diamond as Sammy, Sandy Hackett as Joey, Drew Anthony as Dean, and David DeCosta as Frank. All did a terrific job and brought me all the way back 1962.
A double yums up to the chefs cooking for this show. Dinner shows can be a bit scary because when you've tasted one rubber chicken pasta dish, you've tasted them all. At this show, however, the steak was tender and juicy, and what was they sauce you smothered it in? Omygod! Great job, chefs! "The Rat Pack is Back" is performed for audiences all over the world every day, but it's great to get to see the "home" show. The Rat Pack belongs in Vegas, in 1962 or 2022. May it play at least until then.
Actually The Sands is just one showroom at The Plaza at 1 Main Street. Dinner starts at 6 and the show at 7. The entire production runs Monday to Saturday, with an extra show playing at 10 on Saturday night.
DW Grant is a long time resident of Las Vegas, and has been writing for newspapers and magazines for almost 40 years. To read more of his creations go to WWW.THEBIGe-VENT.com .