Las Vegas Shows and Entertainment:
Lance Burton Show Tickets and Reviews
"Master Magician" Lance Burton
Reviewed April 19, 2000
Updated March 17, 2004 by Ted Newkirk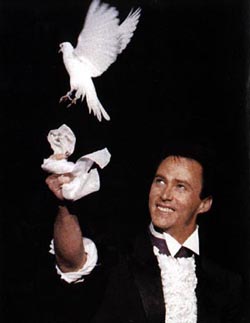 You have probably seen Lance Burton on T.V. countless times. He's been a semi-fixture on The Tonight Show, dating back to Johnny Carson who called Lance "the best magician I have ever seen." More recently on everything from Hollywood Squares (where he is now a semi-regular guest) to programs on Animal Planet network. He's graduated from an ongoing guest spot in Folies Bergere to his own to his own show in the Lance Burton Theater of the Monte Carlo and continues a very successful run.
The show started with the clip from his last television special in which he was chained to the tracks of the infamous Desperado rollercoaster in Primm (40 miles south of Las Vegas). It is arguably the tallest and fastest in the world. While he was able to work his way free, he couldn't hear his assistant's time counts and was nearly killed. Even in slow motion, you could see the coaster missing his feet by inches as he jumped free.
Lance it a traditional magician, not relying on lasers and tigers so much as classic magic taken to a new level. He does make himself flatten and vanish in a twist on the old rabbit from a hat routine that fills the stage with machinery (and his beautiful assistants). In an aviation themed illusion, his showgirl assistants manage to appear/disappear into a suitcase placed on a table in the middle of the stage. Nothing above, below, behind… and no way they could all fit. Wow.
While the big scale illusions are incredible, his personable way of close-up magic helps set him apart. A staple of his show is often when he invites children from the audience (I mean just about all the children … 20 or more) up on stage. Lance's pet bird "Elvis" is put in a small cage, and then all the children surround it putting their hands over every single part of the cage, hand after hand after hand. No way in and now way out … except to see the astonishment on their faces when "Elvis" vanishes and the cage flattens. "Elvis has left the building."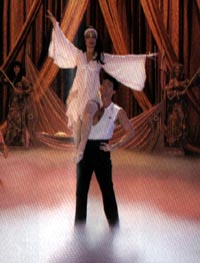 Not to be overlooked is the award winning Lance Burton Theatre. This is one of the nicest, most comfortable, well appointed venues in Las Vegas. It has a
mystical, old world feel that sets the mood while maintaining a top user experience. I took the opportunity to move around the theatre during a couple of illusions this time, checking out sight lines and the user experience in both the main theatre and the balcony. There literally isn't a bad seat in the house (top to bottom) and the careful, plush detail of every area of the venue is a show in and of itself.
His extended finale and now signature trick involves not only making a fully driveable sports car appear on stage, but making it also disappear in a unique way with a "special guest" in the passenger's seat. This one has to be seen to be believed!
Lance is one of the more popular acts in town, and advance ticket purchase is strongly recommended. This show is fantastic for all ages and a "must do" if you are bringing children to Las Vegas.
No related links found