by Lincoln Hudson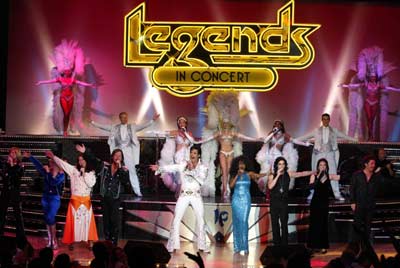 Still going after a quarter of a century on the Las Vegas Strip is the ultimate tribute spectacular called Legends In Concert! This nostalgic piece of what used to be called classic Vegas rotates it's stars every three months thus serving up a regular and diverse diet of both comedic and musical impressionist headliners. Currently appearing on the bill according to Marcel Forestieri who plays Jay Leno is the creme de la creme of the musical tribute world. Naturally one would always prefer to see the actual legends themselves but should either death or retirement be the Artists problem or instead the publics purse strings be too tight then there is always the next best thing available. And at the Imperial Palace they are currently serving up the next best thing in the form of the impressionist worlds version of Donna Summer, Justin Timberlake, Ann Margret, Madonna and Elvis Presley.
Kicking off the show is Marva Scott's rather muted and detached Donna Summer who for if it hadn't have been for the fact that the real Donna Summer was projected on video screens at either side of the stage I would not have had a clue who the Artist was actually playing. Beautiful though her singing voice is I can't help thinking that what is missing from Ms Scott's portrayal of Donna Summer is any of the charisma that has actually made the original singer a star. In fact if there is one criticism to be made of the artists as a whole (with the exception of Lori Russo who plays Ann Margret) it is the fact that while they might look and sound like the people they are playing they unfortunately lack star status.
But what proves a legend to be a legend is the fact that there are people and performers out there in the entertainment world who want to earn a living portraying you.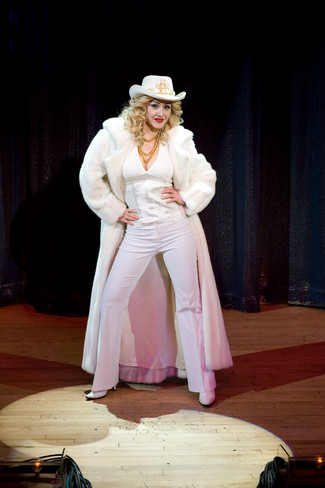 Marcel Forestieri's Jay Leno is certainly good enough to fill in the gaps between acts but I still yearn for the day when someone might step up to the plate and perhaps give us a Bill Maher, a Steven Colbert or even Heaven forbid a Bill O'Reilly!
Next up was Scott Jordan's Justin Timberlake who's confidence certainly grew with each song but dressed in a fully white suite and hat from head to toe he looked more like Gregory Peck from the movie The Boys From Brazil than an actual teen rock star. Again following the rather passive and bored Marva Scott seemed another Artist who at first seemed almost fatally unaware that he had an audience to perform to. Never the less he was a marked improvement on Donna Summer.
Following Timberlake the stage finally came alive with the titanic performance of Lori Russo who beautifully played with style, charisma and passion the 1960's movie legend Ann Margret. Here was finally an Artist who quite literally mirrored the very star who was being projected on the video screens and who also threw absolutely everything of her unique talent into the fifteen minutes that was her spot in the show. If there is any reason at all to stump up the cash to see this show then I would say that it should be to see this wonderful old school and old style Vegas Artist give her all in front of the Legends In Concert Band. Clearly Lori Russo is an Artist who just loves to perform for her audience and with her great voice, great charm, great personality, great talent and great timing I could only wonder as to why someone somewhere has not already either booked her to support an actual star or instead given her her own show and a Viva Las Vegas Orchestra! Yes the star and saving grace of the show was indeed Lori Russo with her beautiful and generous tribute to the legend Ann Margret.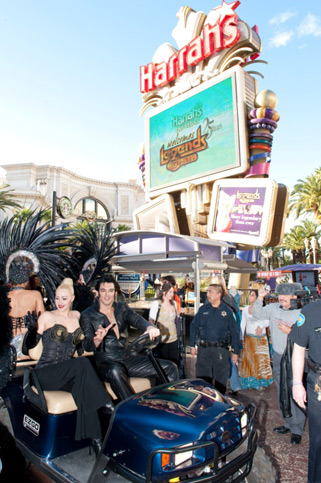 Coty Alexander with a rather predictable portrayal of Madonna, which only proves my opinion that the real Madonna is such an enigma that no one can ever come close to portraying anything other than caricature of the real woman. Like a Virgin wasn't the highlight of the show. However… you probably didn't go to Legends just to see Madonna.
It wasn't until the very end that of course the show gave us The King! Interestingly enough even though Matt Lewis's portrayal of the young Elvis sounded good it did however leave him looking insecure and awkward. I can only imagine that this is because he was having to play the character of Elvis without the fluff and nonsense that much later on became the cliche that Elvis himself felt difficult to live up to. In fact Lewis didn't actually hit the spot and get into his stride until he himself had his own Elvis caricature to hide behind. That said the stage was happily revisited by Lori Russo who did an Elvis and Margret duet which left me with no doubt that the evening itself belonged to the stronger artists out of the group who were both Matt Lewis and Lori Russo.
Clearly this show has merit and is much loved by it's audience otherwise it would not have survived the 25 years that it has been at the Imperial Palace. However if there is one thing that I managed to take away from the evening it was the fact that thanks to the performances of Lewis and Russo I was left with no doubt as to why the 20th Century will quite rightly go down in history as The Century Of America.