by Erika Bayer-Polak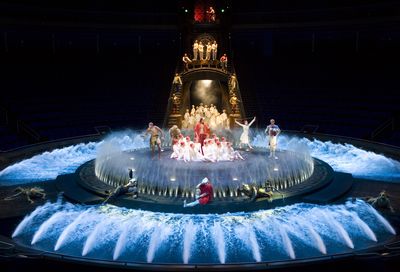 Dreams can often be ethereal and elusive, and ?Le R?ve? is no different.
Watching ?Le R?ve? is in essence watching someone else?s dream, which is represented through a bed that floats away in the beginning of the show. Nonetheless, if most people?s dreams mirrored the spectacles and intricacies in ?Le R?ve? it would be baffling if anyone would ever want to be awake!
The Wynn Theater, which is home to ?Le R?ve,? is in and of itself an act. The round and tiered theater is drenched in rich colors and fabrics and eludes a sense of comfort and tastefulness. But the eye catcher is the center, the stage, if you will, which is water. Not water as in a small pool, but entirely consisting of water. However, all of the action is not in the water alone, quite a few of the intrepid acts also take place in the air.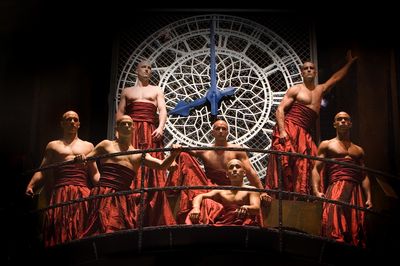 While it is daunting to describe the show, it contains a profusion of acrobats, synchronized swimming, diving, dancing and music, which runs the gamut of operatic pieces to more contemporary, yet soothing compositions. The show?s creator, Franco Dragone, presents the audience with a truly mesmerizing display of the cast?s acrobatic and human aerobatic talents.
The main character, the woman who is dreaming, encounters an assortment of characters ranging from a Zeus-like ruler to a jester to her beloved to a devilish nymph to comedic-relief angels. There certainly is not a shortage of charismatic characters, even if most of them do not speak.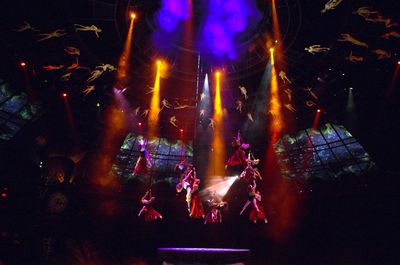 ?Le R?ve? is surreal and possibly avant-garde but not in the sense that only a select few would be able to enjoy it. The show surely offers some form of delight for every type of audience member; it is not so eccentric that one cannot enjoy the seemingly uncomplicated aesthetics and synchronization which without doubt took the cast years to master.
?Le R?ve? offers a fantastical visual and audible dream for all to envisage, and having the chance to be a part of a dream of another is too rare of an opportunity to bypass, especially in a theater which can produce rain storms and platforms which magically rise out of the water.