Las Vegas Shows and Entertainment:
Legends In Concert Show Tickets and Reviews
Imperial Palace Legends In Concert
Reviewed November 1, 2000 by Ted Newkirk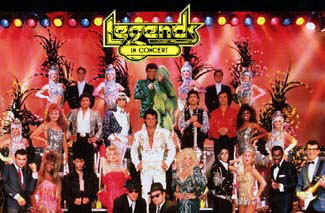 Legends In Concert is one of those shows that people always say "We should get around to seeing that sometime because it looks like fun." If you are a fan of pop music of the past 40 years or so, quit putting it off!
Legends has been bringing favorite entertainers to life at the Imperial Palace since 1983. This is NOT karaoke or some look-alikes lip-synching (fake singing to a tape). These entertainers dress the part, are almost perfect dead ringers for the celebrities they imitate, and use their own vocals to fill the role. In addition to the superstar
recreations, the show features a full troupe of dancers and background singers; a live, onstage orchestra; full array of solid special effects including multimedia and lasers; and great lighting and sound effects.
The "cast" of impersonators varies. A youthful Rod Stewart opened the show with a short, energetic set and probably the sexiest of the costumes the dancers would wear all night (the show features no nudity). From there, The Righteous Brothers (who play Las Vegas on a regular basis) were portrayed in their prime, as was the case with all of the acts. Madonna came out with a talented and sexy set that gave you the impression that the lady impersonating the icon had studied everything about her both on and off the stage.
"The Temptations" did the longest set of the night, and were a huge hit with the predominantly middle-age and older (40+) crowd, which showed enthusiastic approval! Marilyn Monroe was somewhat of a deviation from the pop star theme, but sang a couple of breathy numbers, had plenty of audience interaction, and brought one gentleman up on stage for a time that he won't soon forget.
Elvis wrapped up the show with two segments: one as the young Elvis, and then the finale featuring the older "Las Vegas" Elvis complete with jump suit singing Viva Las Vegas with the full cast of the show and the dancers in full showgirl regalia, bringing the evening to a powerful conclusion.
Legends will be fun for anyone, but is particularly aimed at those who appreciate the stars from the 50's through the 80's (hence the designation "Legends").
No related links found