Las Vegas Shows and Entertainment:
Luxor Attractions Show Tickets and Reviews
Luxor Attractions Performing At: Luxor
Attractions of the Luxor Hotel
Reviewed June 9, 1999
by Ted Newkirk
The Attraction Level (second floor) of the Luxor Hotel contains a number of interesting diversions both for those under 21 and adults who need a break from the tables and slots. I made the mistake of going down and thinking I could do ALL of them in an abbreviated afternoon and opted for the all-inclusive $22.95 ticket. Don't try this at home, folks! While the $22.95 is a good deal, doing these adventures back to back is time-consuming and taxing. Either plan to do everything over the course of two days or just pick a couple of things to enjoy.
IMAX THEATRE – If you have never experienced IMAX 3D (as I had not), you are in for a treat. Sitting with a close-up, unencumbered view of a screen about the size of a drive-in movie theatre screen, you don special glasses that actually have speakers built into them to argument the surround sound. This isn't the old-time 3D experience with the funky glasses that make everything fuzzy. This experience brings the images SO close to your face that you try to reach out and touch them. I saw the T-Rex show, which mixed educational information about dinosaurs and archeology with a "touching" story about an archeologist and his teen daughter. We were taken back in time throughout the show, viewing dinosaurs and other reptiles that were literally in our face time and time again. In addition, the walks through the woods and terrain of the old world forests were brought amazingly to life through 3D. The other two shows currently playing are Mysteries of Egypt and The Olympics. Each show lasts almost an hour and is well worth the $8.95 admission. (That's less than a roll of quarters or a couple of red chips when you think of it in gambling terms). Also, the 9:00 AM showing only runs $6.50
IN SEARCH OF THE OBELISK – This $6.00 motion simulator ride is just a little short on bang-for-the-buck. You are led into a futuristic room where you see a video of a "security alert" which sets up the adventure. Then to a waiting room where another 5 minute video further preps you for the ride. This state-of-the-art motion simulator with wrap-around screen does engulf you in the experience, which includes a hair-raising ride through the Obelisk, trying to escape from the "evil forces". At around 5 minutes, the ride was a little short, although having just had lunch, I was happy to see it end. One of the better standard motion simulator rides in town, even if a bit short and pricey, but go on an empty stomach.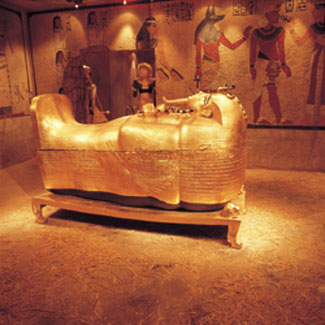 KING TUT'S MUSEUM – A $5.00 rip-off unless you are REALLY into this sort of history, you take a guided tour of replicas from King Tut's tomb. Seemingly historically accurate, this tour takes about 20 minutes because of the narration you receive from the provided headset. Otherwise, it would take 5. Interesting, but something that should cost $2 tops. WORLD'S GREATEST PHARAOH'S – This 20 minute movie, shown in the same theatre as "Lasting Impressions" starring Bill Acosta, provides a history of the Egyptian period of pharaohs that the theme of the Luxor is based around. Interestingly historical, it's a nice reprieve from the bells and whistles of the casino. Not something to take the kids too, but at $4.00 not a bad change of pace for an adult.
Luxor Attractions Performing At: Luxor
No related links found