by DW Grant
If I had a little brother who was a magician, he would be Mac King. Clever, silly, a bit naughty and annoying, but totally loveable and entertaining, this is the man (boy) I laughed and cheered for in Harrah?s show room this afternoon. Maybe that?s why he?s called ?The King of the Afternoon? and why his show is rated one of the 7 best in Las Vegas.
His gift shop offers a ?Lunch Box O? Magic,? so you know he?s not Criss Angel, and there?s plaid fabric everywhere, on his posters, on stage, and on his double breasted suit, so you know he?s not going to be the regal Lance Burton. ?Hi, I?m Mac King,? is his introductory line, said multiple times during the show, and there are no exploding fire bombs or bombastic music blowing your hair back as he says it. He?s Mac King, there I said it again, a great comedian doing simple magic tricks for his audience, as his audience loves him back.
Mac begins with the standard rope trick his grandfather taught him in Kentucky and moves on to card tricks, hand shadows, prest-o-digitizing and eating worms from a tube, gold fish from a glass, and even a guinea pig from a cage. ?Its hard to talk to when you have a mouth full of guinea pig,? he mumbles while spitting rodent hair onto the stage.
Mac?s big tricks include moving cards from one audience member?s pocket to another while wearing his incredible ?Cloak of Invisibility? and impersonating Elvis and Liberace under a gold lamiae blanket during a disappearing trick. But it?s not the magic tricks that make you love him, though they are good, or maybe not even his comedy, that is really good, but its Mac himself.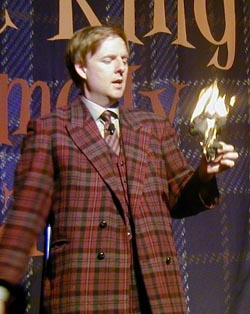 He has this little brother look that makes his jokes work and his magic special as he teases, pokes, and playfully threatens his audience. I thought the pair of older ladies from Michigan sitting in front of me were going to fall off their chairs in laughter and seeing the little girl in the front row giggling while Mac dangled a fishing lure over her head gave me a warm feeling too. He?s Mac King, how could you not love him?
Mac has been on television. On NBC's The World's Greatest Magic specials, King taught the audience a minor effect before and after each commercial in segments, calling it the Mac King School of Magic. He is the only magician to be in all five of the network's magic specials, and he?s been on David Letterman?s Late Show. He also performs at more than 60 private corporate events each year. He?s co-authored 3 books: Tricks With Your Head, a humorously-written series of tricks mostly requiring few, if any props (other than the performer's anatomy), co-authored with Mark Levy; Campfire Magic, subtitled "Over 50 Amazing and Easy-to-Learn Tricks and Mind-Blowing Stunts" co-authored with Bill King; and the Great Big Ol' Book-o-Magic.
He also boasts a listing in the Guinness Book of World Records for starting the World?s Longest Game of ?Telephone,? passing the message ?Mac King is a comedy genius!? through 614 participants. The previous record was 564. Mac started the message and locked the original wording in a brief case before the event. The whispered message eventually came back through the telephone lines as ?Marconi cantaloupe knows the future,? but they gave him the record anyway.
Born in Kentucky, and he doesn?t let you forget his origins during the show, he?s also been named ?Magician of the Year? by the Magic Castle in Hollywood. Perhaps Mac became interested in magic because both of his grandfathers, Pax King and Elwood Huffman, were amateur magicians. During the show he brags that the plaid suit he is wearing belonged to his grandfather. He didn?t say which one, but he has performed both live and on television in Spain, Japan, Australia, Denmark, Sweden, England, Argentina, Holland, Finland, Canada, Chile, and Portugal in plaid suits that probably belonged to one or both magic making grand dads.
King and his brother Bill created a website called "Magic in a Minute," which was designed for the budding magician. The site teaches kids the fundamentals in magic with videos, a magic shop, and even a syndicated comic strip, and wouldn?t you know it, some of the first words on the site are ?Hi, I?m Mac King!?
Mac King began a two-year run with his own one-man show called "The Mac King Comedy Magic Show" in Las Vegas at the Harrah?s Casino and Hotel on January 11th, 2000. That initial run has now been extended until at least you get to enjoy him. Mac performs in Harrah?s third floor show room every day but Sunday and Monday at 1 and 3pm.
Related Links:
Book Now and Save: Harrah?s Hotel
No related links found