Las Vegas Shows and Entertainment:
Mac King Show Tickets and Reviews
Mac King at Harrah's Las Vegas
Reviewed February 28, 2001 by Ted Newkirk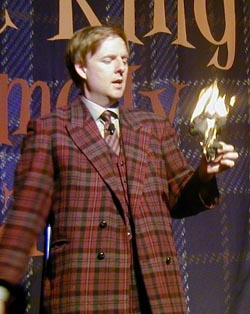 Mac King has been playing Harrah's for over a year, shouldn't need an introduction. He has appeared on television shows ranging from "An Evening At The Improv" to all five of NBC's "World's Greatest Magic" specials. If the name doesn't ring a bell, upon seeing him you will remember him as "the guy who did the funny magic on TV." And funny, Mac King is!
He takes the stage in a vintage plaid suit (vintage early 1900, not vintage disco era) with a story about a rope trick his grandfather taught him. You've seen rope tricks before? Not presented quite this way. From the first moment, you can tell that despite his sometimes silly demeanor, he has the craft of magic down.
King brings out an old fashioned chest containing his props and you never know what he is going to pull out of it next. Unlike Carrot Top, whose props are the joke themselves, Mac uses everything from worms to goldfish to a box of cereal to a stuffed tiger to perform "how did he do that" magic while leaving you laughing in the aisles. The finale is a "tribute" to Siegfried and Roy in which he makes both himself and a stuffed tiger disappear that reappear in a funny but spectacular way.
Eschewing assistants, King interacts with members from the audience using volunteers to help him in a couple of his more impressive illusions in this one-man show. It is pretty clear these aren't audience plants. In fact, if you see this show the day or two after your wedding, you might end up on stage helping in the "Cloak of Invisibility" trick where Mac puts on a yellow rain coat, tells us to pretend he is invisible, then moves cards from the new wife to the new husband without touching either of them.
This is one of the best show deals in town. Period. Plus, it is a perfect way to break up your afternoon gambling or sightseeing (or just recover from that "all-I-did-eat" buffet), give your feet a rest and your mind some refreshment. The show is suitable for all ages, but I'd suggest 12+ to grasp the quick humor involved.
No related links found