by Bethany Dixon
In the second row of Harrah's Showroom Theatre, ten-year-old Micah Oka says, "My favorite trick is when you tell your friends' future with their shoe. You hold the shoe and you say: You are going to go for a short trip verrrryyy soooooon…" He pauses for effect and stares very seriously over his Harry Potter-like glasses. "Then you throw their shoe so that they have to go get it! Get it!?" Micah grins, delighted. He's been reading magical comedian Mac King's books for half of his life, and getting the chance to see his mentor live is making it difficult for him to sit still. His enthusiasm is contagious, and the buzz in the purple and gold theatre is electric from those who know what they are about to see.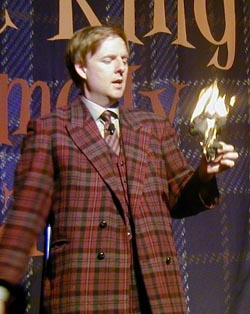 The Mac King show at Harrah's Showroom Theatre is a stand-up comedy magic show. Mac King includes volunteers from the audience, a few props, and a surprising camping guest in his one-man act. The show has been running at one and three in the afternoon Tuesday through Saturday since January 11, 2000. He is also known for his "Mac King's Magic in a Minute," the nationally syndicated Sunday comic strip that he co-creates with his brother, a graphic designer. Mac King's particular brand of magic is extremely popular with young readers because of his line of Magic in a Minute kits that include props and easy to follow instructions. Mac King also wrote "Tricks with your Head: Hilarious Magic Tricks and Stunts to Disgust and Delight," with how-tos on making your head disappear, poking a fork into your eye, and giving a cat "chiropractic" care. He also holds the 2004 Guinness World Record for the longest game of telephone ever played.
Looking at the audience doesn't give you any idea of what to expect from the show. Some are dressed for church drinking bottled water and talking in low voices. Others rush to the bar to make sure they have enough libations for the next 70 minutes. There are grandmothers and teenagers, young marrieds and bachelors on an all-boys getaway. The lights dim and "If You're Happy and You Know it, Clap Your Hands," plays over the loudspeakers. Nostalgic, the trio of businessmen in their thirties behind me stamp their feet and shout hooray with the local seventy year old couple to their left. When the curtain rises, the showman faces an audience already laughing and clapping.
"Howdy, I'm Mac King," he says with a shrug and a smile. Mac King hails from Kentucky. His twang coupled with his plaid used-car-salesman-chic suit will make your sixteen-year-old think that the show is going to be a snoozefest. But, Mac King pulls everyone in with his first rope trick, and the crowd is on the edge of their seats for the next hour. He pays attention to his audience, and they return the favor. He acknowledges the interrupting whoops and hollers when an onstage volunteer tells him she's from Ontario, and quips, "Everyone's a Canadian." Another volunteer writes her name on the back of the card instead of the face, ruining the trick. "Could you come back every time and do that? It's funnier that way," he says.
Mac King is remarkable. He has put together a refreshingly (but not squeaky) clean show. The only PG-13 material is told so that it sails over the kids' heads and you don't have to worry about questions on the way home. In fact, the only question they will be asking after the show is, "How did he DO that?!"
He makes us laugh by putting on his ridiculous yellow raincoat of invisibility and impresses us later when he really disappears. When the lights come up after his encore trick, Mac King waits in the lobby and greets his audience, thanking them individually.
"Tell your friends about my show," he says, "I'd like to keep this job." He shouldn't worry, anyone who sees him perform will be talking about it. Mac King's act is one of Vegas' treasures. Signed with Harrah's in 2000 for a two-year contract, The Mac King Comedy Magic Show has currently been extended through 2011. As they are leaving the theatre, Micah and his friends go to the stage and pick up snipped pieces of the rope from his opening trick, examining the ends. "It's just plain, cotton rope!" "How did he DO that!?" "I'm going to keep it and see if I can figure it out!" They tie the ends together and rush out to the lobby to wait in line and ask him personally.
Mac King is exciting and funny on stage and off. He's working with Spread the Word Nevada, Inc., a nonprofit corporation working to distribute books to underprivileged and at-risk children. Audience members are encouraged to donate a new or gently used book at the show to receive a free autographed Mac King Tricks With Your Head book.The organization focuses on giving books to keep, not just to check out from the library. "The looks on their faces," he says with a smile, "It's like getting a pony." I thanked him for the interview and he shrugged like he did when he introduced himself on stage for the first time and said; "It's not anything really spectacular…it's just me."
Mac King's Mayberry-flavored show would never be considered edgy. He doesn't have scores of special effects coordinators or body-painted dancers high-kicking in sequence. His magic doesn't require mirrors, smoke, or caged animals. It's glitz-free, and it's not very Vegas. But Mac King can rely on something that a lot of Vegas performers go without: both a passion to share with the audience and a talent worth sharing. It's nice to see a show that doesn't pretend to be more than it is. Mac King is a magician and a comedian. And the funny thing is; he's magic.