Las Vegas Shows and Entertainment:
Madame Tussaud's Show Tickets and Reviews
Madame Tussaud's Celebrity Encounter
Reviewed September 29, 1999 by Ted Newkirk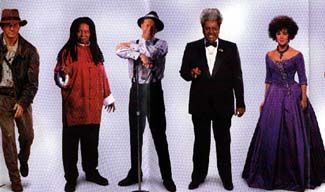 Madame Tussaud's is billed as a "celebrity encounter," and is probably the closest most of us will ever get to the real thing. Hey, if this is as close as you can get, it's pretty darn close! This isn't the kind of wax museum one finds at a traveling carnival or some beach resort town. These true works of art were often created with the complete cooperation of the celebrity depicted and no detail has been left out.
Your adventure starts in "The Big Night," which is set as a celebrity party. When you first walk in, say hello to Jerry Springer. Or at least you will want to! From even 2-3 feet away, you will swear he is real, standing there holding a cue card in his double-breasted suit. Walk over and say hello to Jon Bon Jovi and Brad Pit, or saunter on over for a photo with Elle McPhearson or Naomi Campbell.
You'll get an eery feeling that you are being stared at, and you are. You spin around to see Larry King looking at you from across the room, looking so real that you only want to stare back for a second (not wanting to be impolite). This room features more than 20 celebs, including Eddie Murphy, Cybill Shepherd, Bette Midler, Barbara Streisand, Mel Gibson, Sylvester Stallone, Cher, Oprah, and many more.
You move on to "The Sports Arena", where Ali is in the ring fighting Holyfield (yes, you read that correctly). Watch Olga Korbet is doing a move, or walk over and say hello to Joe Montana. Jesse Owens, Flo-Jo, Babe Ruth, Arnold Palmer, Martina Hingas, and more fill this room.
From there you move on to a hallway featuring the real handprints of many of the celebrities and view a room exhibiting the painstaking process that goes into creating these figures. From the phono sessions to the actual sculpting and the finishing touches, this process is fascinating. The "Rock and Pop" area was fun, but an area where some of the stars were a little less than life-like. Madonna and Mick Jagger both look overly fake, and an employee noted that when the stars do not consent to pose, the designers just have to do the best they can. You are greeted by a very "real" Gloria Estefan and others in the room include Jimi Hendrix, James Brown, Chuck Berry, Lenny Kravits, Billy Idol, Prince, Springsteen, and more.
Interestingly enough, the lessor quality of a few of these wasn't a disappointment as much as completely highlighting how incredibly real the majority of these figures look. From anything over a distance of 5 feet, you really sense that the figures are human, right down to the feeling you get when someone is too close to you, or looking at you.
Old Blue Eyes has his own little display after the "Rock and Pop" area, and from there you head down the stairs (elevator available) to see the "Las Vegas Legends". You are greeted by a showgirl staring in a mirror putting her make-up on. This is probably the only occasion where you can actually look over a showgirl's elaborate costume without feeling like you are staring impolitely. Moving on, take a picture with Tony Bennett, hang with Dino and Sammy, ask "Bugsy" how he really financed the Flamingo, check out George Burns' cigar, of get a close look at what the world saw in Marilyn Monroe. Catch Siegfried and Roy, or take a photo of you and Kenny Rogers singing a duet. You can even throw your bra at Tom Jones (or probably at least until security shows up)! Others include Lance Burton, Bob Hope, Neil Sedaka, Joan Rivers and many more.
"The Finale" is a fun multimedia presentation that is a theatrical tribute to Las Vegas. It has movie clips, music from some of Las Vegas' biggest names, and a "live" appearance by Elvis. Some of the historical information in the presentation was a little bit suspect, but overall a great ending.
BRING A CAMERA. And film. Lots of it. Everyone in your party will want to get a photograph with numerous figures, and you'll really be able to tease your friends with your "Las Vegas vacation" photos. Madame Tussaud's is located at The Venetian hotel, and you can enter right from the street. They are open from 10 AM – 10 PM every day. Adult admission is $12.50 (barely more than a roll of quarters), and we suggest the souvenir brochure at $5.00. Seniors are $10.75, as are NV residents (Many places cut residents a break, hoping we will tell our friends who visit to check something out). Children under 3 are free, and children 4-12 are $10 although this is an experience best appreciated by teens and above. If you forget your camera, they will sell you a disposable one for $13.50.
No related links found