Las Vegas Shows and Entertainment:
Mamma Mia! Show Tickets and Reviews
Mamma Mia!
Reviewed November 2006 by Nancy Dickinson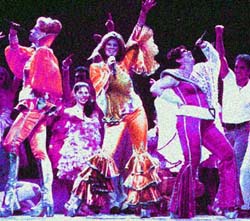 Sophie, an average twenty-year old bride to be, sits under the moon and sings of her dream. Next to the crystal blue Mediterranean, her wedding day anxieties, life's ideals, along with her desire to discover who her real father is are belted across the showroom in powerful song. When her two friends stumble into the scene, drunk with pre-marital madness, it becomes obvious- this show is no circus act; here's a story to which everyone can relate.
Mandalay Bay is the proud home of the longest running and most successful full-scale Broadway musical ever to play on the Las Vegas Strip…Mamma Mia! With a total of 11 global productions, the show has managed to attract over 27 million people worldwide. And with good reason- the content of the show holds something special. It's adventures into real-world family issues and life's less than perfect idiosyncrasies, for audience members just, well, hits home.
No wedding mayhem is complete without some off the wall aunties. Donna, the mother of the bride and hard-working-who-needs-a-man sole owner of a resort in Greece, is reunited with her two best friends. Although complete opposites (one a high rolling jetsetter and the other probably only jetsetting the grocery store), both waste no time making light of Donna's wayward past with men resulting in Sophie's mystery father. While these may normally be solemn circumstances during a wedding, all it takes for these seasoned party animals to lighten the mood are some old camaraderie singing routines- one in particular, singing into a blow dryer and snorkle mask Abba's renowned "Dancing Queen."
Ah yes, Abba! The very backbone of Mamma Mia for both the music and story line. Abba's feel-good, timeless pop songs perfectly compliment the relationship trials of two generations of women and all the chaos real life likes to toss around. Abba songs, music and lyrics by Benny Anderson and Bjorn Ulvaeus make the trip through life a little easier, and a lot more fun.
And this is exactly how these very multi-dimensional, very realistic characters carry on; taking everyday issues and illuminating them with beautiful, energetic song and outrageous, fun filled dance. Yes, everyone has confusion, pain, and skeletons in the closet, but Mamma Mia knows that's no reason to hold up the party. This show clearly states that the search for identity and a picture perfect life must never over shadow what is truly important: the joy of the moment. Ideals aren't so far away after all.
No related links found