by D.W. Grant
It's true what the ads say, "You'll never forget Lance Burton, Master Magician." And you'll never forget this marvelous evening, either, if you take full advantage of the Monte Carlo experience and make it a magical night for your entire party, date, or family.
First trick, make your old Hyundai feel like a limousine and your party feel like first class guests; valet your car. Practically speaking, it saves parking time, only costs you a couple buck tip, and it makes everyone feel that much more special.
Next trick, come early to pick up your tickets and share dinner at the Market City Cafe. Its a fine little Italian restaurant with quick service and lots of helpful friendly staff. If you're on a budget take your family to the Food Court. McDonald's is only a hop-skip-and a levitation away.
In a flash you'll be walking past the "Super Lotto" machine and into the $30 million dollar Lance Burton Theater, a classically designed red velveteen palace built to elevate your appetite for getting "amazed."
Lance Burton is a world champion hall of fame magician who does amazing things in surprising ways. You'll be applauding from the first bird suddenly appearing from a burning candle stick to the last act when he flies away in his "Back to the Future-ish" Corvette. During this magical journey you'll experience classic magic moments, thrilling contemporary illusions, laugh a lot, and even learn a little about the history of magic.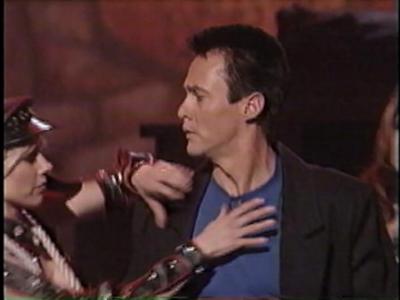 He tears newspaper and birds fly out of the scrap, he burns magazine covers and birds fly out of the ashes, and from out of no where he fills the stage and theater with ducks, geese, and pigeons, including "Elvis," a little bird with a big act.
Lance pulls kids out of the audience and makes them levitate and disappear and then gives them magic gifts when they reappear and come back down to earth. He also uses his show girls to full effect, making them appear and disappear at his will, in and out of some pretty fantastic costumes, in several very exciting production numbers . He even turns one of them in to gold!
There are also clowns, policeman, native american illusions, and a sexy levitation scene that you may or may not have to explain to your kids later. Comic juggler Michael Goudeau gives Lance (but not the audience) a break in the middle of the show by first juggling bean bag chairs and then getting far more dangerous and hilairous to the end of his brief show.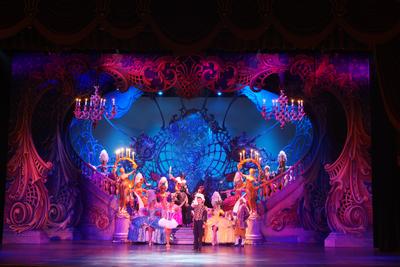 But maybe Lance's best magic is done with the audience. As he wanders out to talk with his guests his Kentucky accent is fun and friendly, and his off the cuff jokes are funny as well. You really get the feeling that meeting his audience is magic for Lance too.
After the show you can't miss visiting Lance's Magic Shop where Bob Massey will entertain you and then encourage you to buy the tricks he is doing "They're right over there," he says pointing to various products hanging on the wall all around you and him. Its fun even if you don't buy anything. But maybe you should, just to take a little more magic home with you.
End your adventure eating ice cream at Haagen Das, also in the food court, or back in the Cafe for an Italian desert. As you're waiting for the valet to bring your car look up and watch the people scream on the roller coaster circling the New York New York Hotel just next door.
Don't forget to tip your Valet and enjoy the memories conjured up for you by Lance Burton, master magician.