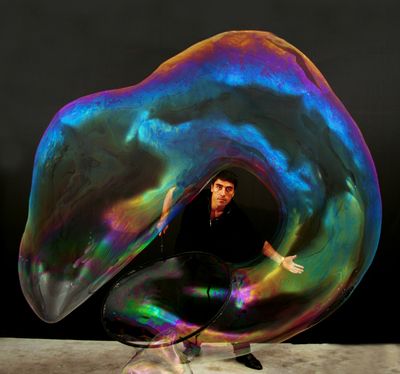 By Devon Brooke Clasen
Finding even a modicum of innocence in "Sin City" is a challenging feat to be sure, but a world of innocence, wonder and enchantment awaits visitors to the Mega Bubble Show, playing in the Steve Wyrick Theatre in Planet Hollywood's Miracle Mile shops from Thursday through Sunday at 3 p.m., with an additional 11 a.m. show on Saturday and 1 p.m. shows on Saturday and Sunday.
Innocuous enough, bubbles enraptured us all as wee little ones, with an ethereal and magical quality like nothing else found in nature. Eventually the novelty wears off and as we grow up, bubbles receive nary a thought… The Mega Bubble Show reintroduces us to the beguiling fascination of the bubble, which we recognized and appreciated as children and perhaps need the occasional reminder of as adults.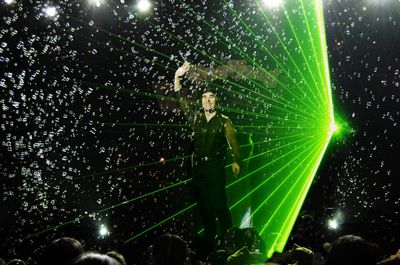 A family-friendly show claiming to be "unbubblievable" and guaranteeing show-goers will be "bubble-azed", children and parents alike will delight to the playful, wholesome simplicity of the performance. A single performer, identified only as the foreign-born and heavily accented Jaro, creates bubbles and bubble constructions, large and small. Utilizing various apperati including tubes, wands and even his own hands, Jaro blows and builds unique bubbly designs. Employing minimal stage d?cor, Jaro lets the bubbles speak (or act) for themselves. As the show progresses, the "tricks" grow more elaborate and more impressive. When a smoke-filled bubble pops, the gracefully vanishing cloud inspires plenty of "oohs" and "aahs." Children called up to the stage are encapsulated inside massive bubbles, surely as much fun to experience as it is to watch. Mega Bubble Show is somewhat dependent on the cuteness of the young audience participants, but this presents a challenge unto itself.
Younger kids in the audience, ranging from three to nine or ten years of age, are eager to volunteer for on-stage participation, but once that spotlight hits them, they're rendered silent and noticeably stage-shy. Jaro's sensitivity, humor and gentle rapport with children help lighten the inevitable slowdown. The icing on the bubble is that each pint-sized participant is bestowed with a souvenir bubble making kit.
As can be expected, bubbles are delicate, unpredictable and sometimes uncooperative. Occasionally, a bubble trick doesn't go off exactly as planned, but Jaro quickly recovers and keeps the action moving comfortably along, lest the uber-exuberant kids be distracted and reduced to a roomful of screeching hyenas. Much of the show is dependent on vibrant lighting effects and thematic musical accompaniment, enhancing the brilliant display of bubbles which, if presented alone, might fail to keep the kids attention. During a colorful laser show finale, bazillions of bubbles literally flood the audience as the young and not so young in attendance squeal with joy, or possibly shriek with surprise from the sudsy shower they receive from above.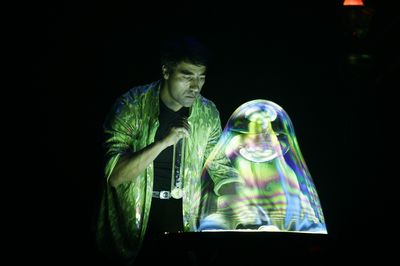 Beautiful to behold, bubbles inevitably burst, resulting in a slippery, soapy mess. Several bubble machines arranged high over the audience tend to drip the bubble fluid, and bubbles broken on the skin, hair or clothing leave spotty evidence of the solution behind. Attendees should opt to dress down and prepare to leave a little wetter than they arrived. However, this interactive element of the show offers the greatest thrill to children. Unlike a two dimensional movie, Mega Bubble Show indulges kids' instinct to get messy and incorporates them in a tangible, touchable way, which brings them to their feet with endless enthusiasm.
Parents will no doubt appreciate the relaxing qualities of the bubbles, as well as the totally enrapturing effect the bountiful bevy of bubbles has on little ones. This is not a show where kids fuss and squirm in their seats. It is a show that provides parents a momentary break from child watching responsibility, and allows them to loosen up and relive a time when they too where fully captivated by the magical qualities of the bubble.
Is it the most elaborate, exclusive and breathtaking show the city has to offer? No, but its appeal is truly in its simplicity. Granted, this is a kids' show, but parents will enjoy the distinct un-sexiness of the show, its innocence and light heartedness. In a city packed to the gills with scantily clad showgirls, strippers and overblown production shows, Mega Bubble Show is a refreshingly pure option for any age. Taking into account that families with young children do indeed vacation in Vegas, Mega Bubble Show invites all to escape into their own childlike imagination, where the world is as uncomplicated as ever and catching a drifting bubble offers the greatest delight to be found.