Las Vegas Shows and Entertainment:
MGM Lion Habitat Show Tickets and Reviews
MGM Lion Habitat
Reviewed July 28, 1999 by Ted Newkirk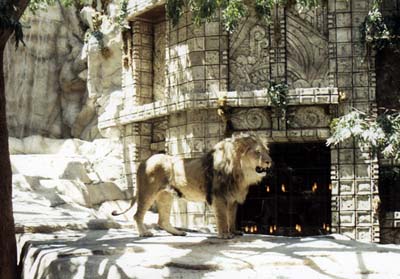 The free lion habitat at the MGM is now open daily from 11:00 AM to 11:00 PM. It's a walk-through display, with plexiglass on all 4 sides of you, theoretically allowing the lions to get inches from you. It is more of a display than anything else, given that you could walk through the plexiglass tunnel in about 10 seconds (and straight into the gift shop to guy a $14 lion coffee mug). The display is located near the main casino entrances from The Strip and Tropicana. The plexiglass walls front a large casino area, allowing you to enjoy the display from a number of angles.
Our 6:00 PM weekday visit revealed 2 lion cubs in the display, each working with a trainer who was teaching them to sit, stand, etc. not unlike one would a dog, and then rewarding them with raw hamburger. You can take a photo with a live lion cub for $20, although this feature was closed during our visit. While this display isn't worth going well out of the way for, it is a must-see when in the area.
Note: the MGM has one of the worst parking garages in the city. It sits about 1/4 a mile from the front entrance, has extremely narrow spaces, and is difficult to even get to. When visiting the Monte Carlo, New York, New York, MGM, Gameworks, or the All Star Cafe, we strongly suggest parking in the Holiday Inn Boardwalk garage. This under-used structure sits right on the strip and is short, enjoyable walk to the above casinos and attractions.
No related links found