Las Vegas Shows and Entertainment:
Midnight Fantasy Show Tickets and Reviews
Midnight Fantasy Performing At: Luxor
Midnight Fantasy
By Ted Newkirk
April 24, 2002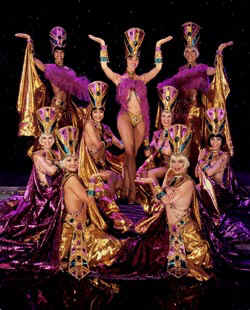 Las Vegas seems to have a topless show on every corner now. The old standbys like Folies Bergere and Jubilee have it as part of a bigger production. Crazy Girls makes it the centerpiece of a bawdy production. La Femme features the "artistic value."
Midnight Fantasy has taken a different angle. There is just about as much topless time as can be squeezed into a production show, and even the comedian jokes about it being a "t*ttie show." However, the Midnight Fantasy title doesn't describe male fantasies, but female fantasies.
Each vignette starts with narration setting up a scene of a breathless female fantasy that is played out through choreography, staging and costumes. Although the limited stage keeps the props to a minimum, this actually works as fantasy is more about the mind and acted out by the dancers.
They have avoided the traditional "showgirl" look, instead paying great attention to the unique and provocative wardrobe worn by the dancers and cast. Red leather chaps and cowboy hats, rhinestone bustiers, filmy negligees and business suits are a few of the elements that add to the storyline. As the fantasy story heats up in each vignette, he costumes become more revealing.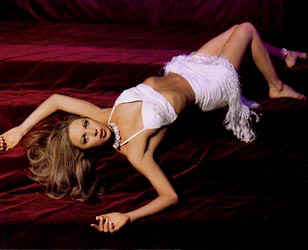 I've got to hand it to the cast which features vocalist Charidy Sullivan aFontaine, dancer / impressionist Sean Cooper, and comedian John Padon plus nine eautiful dancers. When there is a weak spot, whether with the main performance or the specialty acts, it can bog down an entire show. LaFontaine has a nice voice and connects ith the audience on a solid level. The crowd fell in love with Cooper, who's comedic mpression of Tina Turner was memorable, as was his entire routine.
John Pardon had the standard "Vegas" jokes mixed in with quick-paced comments n life. While no Andrew "Dice" Clay he does use some adult language. But like e said … "Hey … what do you expect … you are at a t*ttie show." The cast of dancers and choreography was strong throughout the performance, something not always expected from a mid-priced show. Because the show delves into female fantasies from a woman's perspective, Midnight Fantasy is a fine couples show (provided the lady is comfortable with this subject matter to begin with).
Midnight Fantasy Performing At: Luxor
No related links found