Las Vegas Shows and Entertainment:
Neil Sedaka Show Tickets and Reviews
Neil Sedaka
Reviewed June 15, 2005 Nancy Hruska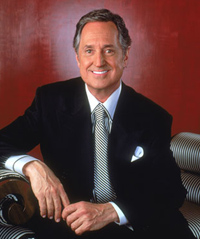 "I'm the king of Tra La La's and Doo Wop's," Sedaka humbly confessed. It looks as though even after 4 decades of recording, Neil Sedaka is still able to make a rose-tossing full house at The Orleans cry and sing along to "Breaking up is Hard to do." The truth is, no matter which age or demographic one belongs to; the heavy weight Pop pioneer will belt out some velvet anthem of which everyone knows the words.
His name sounds familiar to at least everyone with a record player, but who is Neil Sedaka? Oh just another face in the music industry; one of which had his songs recorded by the lesser known Frank Sinatra and Elvis Presley. Not to mention a managing hand launching the careers of Neil Diamond, Carole King, and Paul Simon.
But no one should assume his seasoned career would give him any less energy on stage now than 40 years ago. The man can soft shoe and sing smooth hits as though it's his first day in showbiz.His opening song had such classic visual and audio beauty with only Neil's glowing grand piano, a vibrant celestial background, and a quiet ballad of his own naked notes. But business really began once the stage lights lit up his full band of strings, horns, drums, keyboard, and back-up singer to deliver the song on everyone's agenda: "Happy Birthday Sweet Sixteen."
To resist singing along to that one is futile. It would be impossible to stuff the work of countless platinum gold records and hit singles into one show, but Neil sure tried. One favorite hit "Calendar Girl" frenzied the crowd not only with the tune itself, but with the gigantic music video playing in the background. In 1961, "Calendar Girl" became the very first music video ever, complete with lovely ladies prancing around a strapping gent with a flawless voice (wonder who that may be?).
Another more sentimental song demonstrated Neil's family values as he sang along with a video of his vocally gifted daughter in "Should have never let you go." And although this was Neil's show, he wasted no time for a song that celebrated the talent of one of his own favorite musicians, the late Dina Washington, as he sang along with visual and audio clips from her collection. But these examples are only a sliver of the life and energy the show has to offer. Yes, Neil sold 30 million albums in two years. Yes, he has recorded in 5 different languages.
But if one asked Neil Sedaka how he became so successful, how he has touched to hearts of multiple generations with music, he may bring things back down to earth with a quote he shared during his show, "Songs are like my children, they live and breathe every time I sing them."
No related links found