by Terri Feld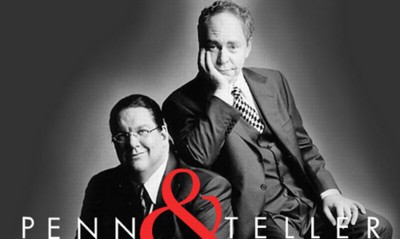 At first glance Penn & Teller?s show might seem the anti-Vegas Las Vegas show. With no fancy props, bedazzled showgirls or big-screen video embellishments, the pair cut to the heart of smoke, mirrors and illusions, yet still manage to leave audiences amazed and mystified by their stripped down, inside-out magic, as well as thoroughly amused by the accompanying sidebar antics. 30 years performing throughout the world uniquely prepared these magician/comic/entertainers for their sit-down engagement at The Rio, now in its 5th year (shows 9pm nightly Sat-Wed)
Ticket holders may be seated up to an hour in advance to enjoy the jazzy rhythms of the Mike Jones Duo, a virtual mini-show in itself. Throughout the set, Jones invites audience members up on stage to ?look at a box and sign an envelope? ? both props to be used later in the show. Just how they are used we won?t give away here. Not that it?s certain Penn & Teller would even mind. After all, their stock and trade, celebrated throughout the show, is all about giving away the secrets ? of magicians, mystics and assorted charlatans. As world renowned authors, Broadway and film performers, and stars of their own TV show and specials, Penn?s in?your-face personality along with Teller?s mime-savant persona are well-known in most circles.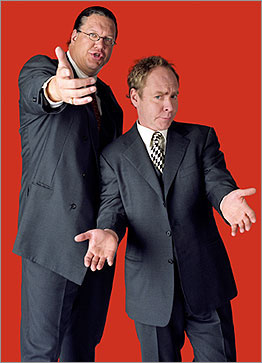 In terms of upholding their reputations, the two do not disappoint here at The Rio. Employing a variety of standard magic bits from a simple Cups & Balls
illusion to the more dramatic Sawing a Lady in Halves, Penn & Teller manage to inject their unique take and unexpected punchline every time. Other parts of the act incorporate totally unusual devices, such as an Airport Metal Detector. And Penn?s romantic fire-eating interlude is in a category all its own, as is his nail-biting nail gun routine. Teller, despite his trademark staunch silence, shines every bit as brightly in many acts highlighting his deft sleight of hand skills.
A double-barreled finale fittingly rounds out this evening of magic, mirth and mayhem. Both Penn and Teller have honed their individual styles and abilities of audience interaction to perfection, thus making this anti-Vegas show perhaps the ultimate Vegas experience by creating an intimate and lasting connection with the audience.