Las Vegas Shows and Entertainment:
Rich Little Show Tickets and Reviews
Rich Little Show Tickets: Rich Little plays The Orleans Hotel Casino periodically. Call 702-365-7075 for latest dates.
Rich Little
Reviewed August, 2005 by Nancy Hruska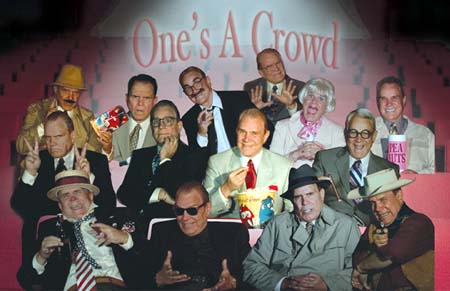 "George Burns" started off the show at The Orleans Showroom recently, cracking a joke about the well-known impressionist Rich Little. "When I die, they'll have to bury Rich instead." A native Canadian, Rich Little has been getting under the skin of and "becoming" celebrities and political figures alike for the last 40 years. Some of his impersonated victims include heavy weight celebrities such as Sylvester Stallone, Jack Nicholson, Arnold Schwarzeneger, and Clint Eastwood. But a lot of his voice and mannerism material comes from Baby Boomer friendly figures such as Dr. Ruth, the infamous Frank Sinatra, and even Kermit the Frog to name only a few of his 200 voice collection. Oh, and every U.S. President since Kennedy were certainly not spared by the "Master of Mimic."
Rich jumped right into song, "One's a crowd" which is the name of his show at The Orleans. The audience quickly learns why he opted for this title as Rich takes them through the times with a dynamic crowd including: Neil Diamond, Anthony Newly, Tom Jones, and Willy Nelson (Willy cleverly pegged with the tune "On The Booze Again.").
Andy Rooney showed up later in the showroom complete with shaking finger, critical smirk, and shrewd voice- "If a vacuum cleaner sucked, would that be a good thing? Did you ever think about that?" Rich not only sounded like him, he became him and the audience was immediately brought back to an outlandish (perhaps annoying) episode of 60 Minutes.
Paul Lynd of Hollywood Squares and Alan Ladd (Rich's childhood hero) are a few of which Rich spares no humility for during his show. However, what gets the crowd really roaring, is the infamous late-night Hollywood figure no demographic can deny knowing …Johnny Carson. How did Rich master Johnny's mannerisms? "At the zoo …the Ostrich" (Carson's famous Carnac The Magnificent bit). Rich continued on with a high bent knee walk and stretched neck Johnny, complete with backward envelope jokes for his bit.
Those in the audience familiar with Rich Little were more than likely waiting for a specific political number …The Presidents. Rich remarks, "All the big jokes are in Washington, but I brought them here tonight." Reagan, Carter, Nixon, Clinton, and both Bush's were shown no mercy for their side splitting character beating. None, however, were as rough as Rich's supposed preparation to get into George W. Bush's character. "Hold on," he tells the audience. "I have to empty my mind."
Frank Sinatra, a person which took Rich 7 years to master, started off the finale song. He was quickly interrupted by Dean Martin (both sober and drunk), Sammy Davis Jr., Tony Bennett, and other legends all singing in their renowned pitch and style. Rich Little voice capacity is as large as his collection of impersonations. From sex therapists to musicians to political figures to Hollywood stars, Rich does not discriminate regarding whose character to master. Anyone is liable to join Rich's notorious "Crowd."
Rich Little Show Tickets: Rich Little plays The Orleans Hotel Casino periodically. Call 702-365-7075 for latest dates.
No related links found