Las Vegas Shows and Entertainment:
Rick Thomas Show Tickets and Reviews
The Illusionary Magic of Rick Thomas
Reviewed Nov. 15, 2003 by Ted Newkirk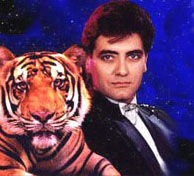 Magician Rick Thomas just celebrated six years of wowing crowds with his afternoon show at The Tropicana. I've seen the show before and this great show just gets better with age.Rick takes the audience on a magical journey, weaving music, magic, dance and exotic animals that in many ways is more reminiscent of an evening show, but without the evening show price. If you've seen the show before, you have two great reasons to see it again. New Illusions "Street Beat" and "Incredible Shrinking Tiger."
For Street Beat, Rick explains the new illusion is a change from the traditional magic that he performs. Four of Rick's talented female dancers take the stage for an upbeat dance number donning white leather jackets, shorts and knee-hi boots.
After their dance, the girls begin waving racecar type flags with flames on them. Rick then appears standing on a platform in a black leather jacket. The girls wave the flags again and Rick appears seconds later atop a Harley style motorcycle. All in the blink of an eye and the wave of the flags.
Incredible Shrinking Tiger is a change from the "Oh look, an animal vanished from one box and appeared on another" routine. Thomas performs in Japan from time-to-time, and the cost to transport just one of his full-size tigers is an overwhelming $15,000.
What if … he could shrink the tiger to save on transportation costs? Leading a full size tiger into a box, Rick shrinks the box by collapsing it sections at a time. The box gets smaller before our eyes until he opens it, and out comes a much smaller tiger. Unique indeed.
I won't give away anymore, except to say that he hasn't abandoned the elements that make his show worth seeing time and time again. A couple is brought up on stage only to have the wife accidentally smash her husband's watch, only to get it back later in a unique way. Classic acts like levitation and magic rings are performed to perfection and fun to watch again and again. The showgirls add mild sexy spice that is family friendly.
This show is truly one that all ages will enjoy, and with tickets starting under $20 (plus tax/fees) you can bring everyone along without breaking your vacation budget. Whether you are looking for the trappings of an evening show at an afternoon price, or you just enjoy breaking up your Las Vegas vacation days with some afternoon entertainment, you won't be disappointed.
No related links found