Las Vegas Shows and Entertainment:
Second City Show Tickets and Reviews
Second City at Flamingo Las Vegas
Reviewed October, 2006 by Nancy Dickinson
When life's clutches seem to squeeze the soul for it's last drop of vitality, it's definitely time for a change of scenery- a reminder to make fun of it all and not take ourselves too seriously- a trip to experience Second City.This relatively scriptless, improvisational comedy show tucked secretly in a comfy showroom inside the Flamingo, packs a unique comic punch of which it's knuckles don't fail to graze anything- young, old, straight, gay, and grotesquely yet beautifully human. The "Comedy Empire," known for it's hand in training comic heavyweights such as John Belushi, Bill Murray, Joan Rivers, Martin Short, Mike Myers, Tina Fey, and Dan Akroyd originated in Chicago in 1959 and it's madness has seeped since into Detroit, Toronto, Denver, and Las Vegas. The final product is a show that literally puts all the fun back into mankind, dissecting the human condition relentlessly while exploiting everything at a satirical level off the charts.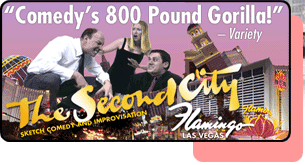 Each skit branches off from a central theme, one which demonstrates that nothing is sacred, not even religion. In an office setting are brainstorming workers (angels) and their almighty boss (God) trying to figure out what to do with humans down below. An example of their ingenuity as creators: "Why don't we make the men smart like the women? Same reason we don't make animals talk." Demoralizing, insulting, and belittling? Perhaps. But a much needed laugh in the face of an often ugly world.
The rest of the material shares the same gutter. For instance, family issues, alcoholism, sex, weight gain, and divorce to name a few joys are all desensitized and brought down into the format of a child's ghost story. What are those things after all besides one big nightmare anyhow? A similar sarcastic bit exhibits girl scouts singing with a chippery upbeat demeanor though their lyrics are far from sunny as they gaily sing about how life will slowly crush one's soul.
The cast of Second City moves in and out of sketches and life's idiosyncrasies so fast and unpredictably they give A.D.D. some real competition. This is appropriate as Las Vegas life fuels such dementia and one day in this town can give anyone comic material to last a lifetime. The new Vegas Slogan conjured up by Second City's far from professional tourism and marketing department states, "Come to Vegas and leave with Gonorrhea." Don't forget to go overboard with new age beauty treatments such as the Bellagio Spa's Koala Placenta wrap. Then, allow all the magic and romance to be sucked out of a Venetian Gondola ride as the Gondoliers sing in an Italian accent, "Tiiippppiiimmeeee pleeeeeeeasse. Oooooonnlyyyy $5.50 an hoooouuurrr to push these biiitchessssss arooooouuund!"
The cast then embraces one of life's more regular characters in all cultures- the overbearing waitress that talks way too much and is incapable of minding their own business. One of Second City's female comics pushes her annoying self into the faces of audience members and works on an improvisational level that is limitless. Any audience member's shirt, name, even drink is all up for grabs in the name of ad-lib comic relief. And the cast is just as quick to tear apart the other side of the funny spectrum as well with a perfectly choreographed dance routine for an MTV spoof. It's not, however, beautiful people in scantily outfits, it's normal fat folks celebrating sweat pants and obesity. Any viewer will find the change in aesthetic focus quite refreshing. "Saggy Ass Sweet Pants."
Yes, television definitely does tend to put a false smile and way too much make-up on the face of America. Second City likes to sprinkle a little truth serum on pregnancy test commercials changing them from celebratory moments to catastrophic realizations that drinking, partying, and irresponsibility are joys of the past. Also, Family Feud is does not really portray any family accurately. What might is this: Name something you find in your husbands drawer after he's dead?Other women's panties and Methamphetamine.
Well there it is, real life, naked and all uncomfortable in it's skin, fat hanging over the sides with plenty of flaws of which to speak. All there is really to do is poke fun at it, make light of all the madness. Laughter can heal the hurting world.
No related links found