Las Vegas Shows and Entertainment:
Shark Reef Show Tickets and Reviews
Mandalay Bay Shark Reef
Reviewed July 12, 2000 by Ted Newkirk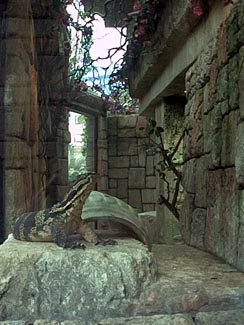 Have you ever been to one of those seaside aquariums? "Baby, this ain't one of those." Mandalay Bay's new Shark Reef features some of the most exotic and dangerous aquatic animals in the world and puts you right in the middle of it. They have built one of North America's largest displays of sharks and other salt water predators.
The first part of the tour is through a tropical jungle, complete with lush green surroundings. You weave your way through a maze of a number of reptile displays, giving you possibly the closest ever safe look you'll ever have at these intimidating creatures. From there, you continue to walk through what looks like an ancient temple that has been claimed by the sea, eventually ending up underwater in part of a wrecked ship, surrounded by 1.6 million gallons of ocean water right here in the middle of our desert.
These dangerous sharks, schools of fish, and displays of some of the most exotic marine life known to man aren't just beside you, but above and below you as you walk through clear walls, floors and tunnels. (For the claustrophobic, let me note that the central rooms in the aquarium are very large — this isn't like being stuck in an elevator).
Shark Reef includes almost 100 different species including:
Sharks: Include blacktip reef sharks, bonnethead sharks, nurse sharks and lemon sharks. Some species of sharks at Shark Reef will grow to be more than 12 feet long.
Tropical and Fresh Water Fish: Include several species of angelfish, puffer fish and tang fish. Venomous tropical fishes include such species as the radiated lionfish and coral catfish.
Reptiles: Crocodiles, green sea turtles and ravenous water monitors are among the reptile species displayed at Shark Reef.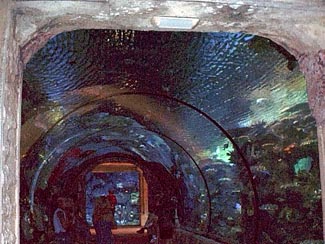 Eels/Marine Invertebrates/Rays: Eels, invertebrates and rays each have exhibits to showcase their species at Shark Reef Moray eels, southern stingrays and hundreds of moon jellyfish are among these creatures. We have a few minor complaints. Shark Reef is quite a hike from the main casino area (past the pool, the arena, convention area and then a little farther).
They are looking to expand the resort in that part of the property, which will eventually feature a duplicate of their guests-only swimming area that will be open to the public. We hope they have some airport style people movers in the plans also.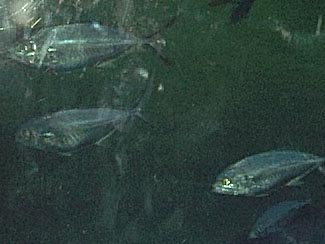 There are flat screen monitors throughout the display but they don't say much. Perhaps more informative multimedia displays are planned. Also, the $12.95 price was drawing a few grumbles from people at the ticket booth (although none once they were inside). Perhaps a $10 ticket price in line with the Secret Gardens of Siegfried and Roy would be in order.
Still, it is a pretty captivating experience and if you have even a remote interest in natures more exotic displays, it will be money well spent. There were plenty of children and teens who were thoroughly enjoying it but it left us adults just as much in awe.
Shark Reef is at the Mandalay Bay Hotel and Casino. Open daily from 10 AM until 11 PM, admission is $12.95. Children 12 and under and Nevada residents with ID are $9.95.
No related links found