Las Vegas Shows and Entertainment:
Sheena Easton Show Tickets and Reviews
Sheena Easton
By Ted Newkirk
June 20, 2001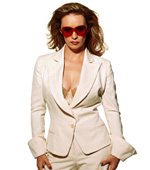 "My
Baby Takes The Morning Train" … "For Your Eyes Only" …
For most, those are the only two songs that come to mind when someone says Sheena Easton. So I admit to being skeptical when I heard that she was booked to play the entire summer at the Las Vegas Hilton with the possibility of extending the run if it went well. She had just finished a year-plus stint in "At The Copa" with David Cassidy but he was admittedly the star and main draw of that show.
If Ms. Easton has a "star" attitude, she certainly didn't display it in this performance. After hitting the stage with a tight eight piece band, she ran through a number of standards and with a couple of disco songs thrown in for good measure from her latest European CD. In her stunning evening gown, it was pure lounge. Not the tacky, typical Vegas lounge but old-style classy.
She then took a few minutes to bond with the audience, talking about her kids, her career, and what it is like to be an 80's sex symbol 20 years later. She joked that her rear end from the 80's is still alive and well — and that Britney Spears is now using it! While she still looks great, the self-depreciating rant went over well with her (mostly) 30 and older audience.
Playing to a general "Vegas" audience, the odds are that people are coming more for the entertainment value than because they are die-hard Easton fans. Keeping that in mind, she was smart to integrate her hits from the 80's with classic standards. No matter how you cut it (and how much many of us still enjoy it), music from the 80's can't help but sound a little dated.
She ran through "Strut" than did a duet with her percussion player on "U Got The Look" and "We've Got Tonight" as well as performing other hits from her repertoire. After letting her band shine in a jam that featured a short solo from each member, she emerged from a wardrobe change and whipped into "Fever" before singing the her obligatory hit "Morning Train."
Then it was back to a duet on "If You Asked Me To" and "Best of My Love" featuring both her percussionist and her female backup singer participating in lead vocals. She had a very strong finish to the night with "For Your Eyes Only" and "Signed, Sealed, Delivered."
Easton was signed to play the 350 seat Hilton Nightclub but response has been so strong that many of her dates will take place in the main showroom that was once host to Elvis. She does a great job of entertaining and both her fans and those expecting to see a classic Vegas performance won't be disappointed.
No related links found