Las Vegas Shows and Entertainment:
Showgirls Of Magic Show Tickets and Reviews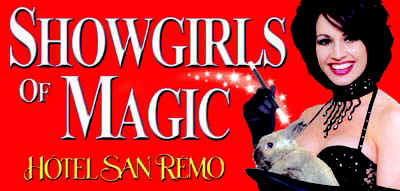 Reviewed February 26, 2002 by Ted Newkirk
I won't deny that I'm pretty jaded. I know virtually every casino layout like the back of my hand, and have seen almost every single show, some multiple times. All Vegas TV reporter Elizabeth Rizzo will confirm that I was checking my watch during a recent visit to EFX, and this despite the fact that Rick Springfield has kicked it up a notch and EFX is once again a show worth seeing.
This makes it an even more pleasant surprise when I run across a show that delivers the goods for a decent price, and Showgirls of Magic keeps the promise. Take an intimate showroom, four beautiful ladies, magic, dancing, and hilarious specialty acts you are have a winner. You won't be checking your watch — you'll be forgetting time exists enjoying this fast-paced entertainment.
Showgirls have been a part of Las Vegas since the Rat Pack days and before, but generally in "window dressing" capacity. This is one of the first real attempts to capitalize on the complete performing talents of a set of showgirls and actually make them the stars of a magic revue. It's worked unusually well as they run through a variety of eyebrow-raising illusions such as Houdini's Metamorphosis, levitation, and a double rendition of "sawing the girl in half" with an interesting clothing switch thrown in.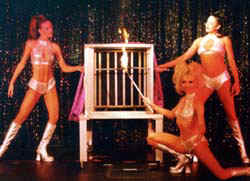 Because of the modest showroom size, you won't see larger-than-life scale illusions but this actually works in their favor. When sitting 42 rows back in the middle of 3000 people, it is tough to tell what is truly happening on stage (with regard to "magician's secrets"). Here, you are close enough to see the area around the illusions and see
the entire stage. If you ever thought these tricks were just camera angles when you saw them on TV, now is the chance to be truly mystified "right before your very eyes."
Long time cast member Antonio Hoyos, one of the specialty acts, provides comic relief as "The Great Antoine." Hoyos is "vertically challenged" and his mime-like shtick as a second-rate vaudeville magician provides some good laughs. Showgirls also features other specialty magic acts in addition to Hoyas which are subject to change, as many seem to rotate from one show to another. However, they always seem to get top acts.
Although the magic is great, they give equal attention to the "showgirls" moniker with well choreographed dance numbers performed in a variety of sexy costumes (topless during the second show). For a smaller showroom, they have gone to great care to provide good lighting and sound to give the show a "big production" feel.
Showgirls of Magic features both family (covered) and topless performances. It is the same great show, but geared at slightly different audiences. The covered version is still sexy with some bare buns and double entendres from the comedy acts, but generally suitable for both teens and grandma.
The topless performances (later show) tend to draw more of the "party crowd" specifically looking for the classy adult entertainment that Las Vegas is now known for. The dancers are naturally beautiful, fun, sexy, and tasteful. Although NOT a strip club atmosphere, the topless show is a good alternative to hitting a strip club for that group of guys out on the town. Everyone will have fun, no one will have to lie to their wife, and the ticket price still leaves plenty of cash in your wallet.
Showgirls of Magic plays at the San Remo Hotel Casino, just across from the main entrance to the MGM on Tropicana Avenue (next door to Tropicana Hotel). Side Note: The San Remo is a "best kept secret" as a nice, comfortable, slightly upscale property with great dining values and a friendly staff.
No related links found