Las Vegas Shows and Entertainment:
Skintight Show Tickets and Reviews
Skintight at Harrah's
Reviewed May 2, 2001 by Ted Newkirk


Las Vegas is full of skin. Sexy clubs and topless shows are in, family entertainment is out. And in the heat of summer, even many of the visitors are showing plenty of skin in body-conscious outfits to beat the heat.So what does a show do to stand out? You do what Skintight at Harrah's does: Put on a solid, fun, well-choreographed sexy show that appeals to both sexes without offending either.Skintight is about the music and dancing. Leads Darryl Ross and Shannon O'Keefe lead an energetic troupe that never slows down, with music ranging from sultry to pop to a "Stomp" style scene steaming in sex appeal. There literally isn't a lull.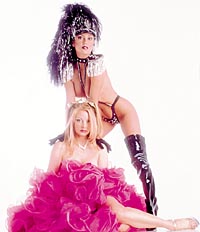 Skintight is about the comedy and fun. The last thing Las Vegas needs is another topless revue that tries to be overly serious and artistic. Isn't flirting supposed to be fun? Isn't part of being sexy having that twinkle in your eye? Skintight is upbeat; a pseudo romp between the sheets full of smiles and laughs.2/3 of the way through this 70 minute ride, veteran comedian Tony D'Andrea treats us to his old-school raunchy comedy. D'Andrea must have missed the politically correct movement, and that's a good thing. This was no-holds-barred impressions (Jack Nicholson, John Wayne, Charles Bronson, more) and commentary that had the audience blushing and rolling. This is the stuff you come to Vegas to see.
Skintight is about the audience. Cast members dance and parade into the audience during various numbers, but it doesn't end there. Five lucky gentleman are brought on stage for lap-dances (more like tease dances — nothing that would get anyone arrested or really tick off the guys date/wife) which turns out to be quite entertaining. But ladies … you get even. Darryl Ross turns the tables by bringing a lucky lady up as he swivels and strips down to a g-string.

Skintight is about the skin. The costumes leave little to the imagination, with plenty of topless numbers and bare behinds, both male and female. There is more shaking, wiggling, and dirty dancing then you'll see at a nightclub all choreographed into a welcome spectacle.
The show walks an amazingly fine line giving the ladies possibly more to look at than any other topless revue (Chippendales-style shows excepted) while not making the guys queasy. On the other hand, with so many beautiful topless dancers and the talented and sexy O'Keefe, the guys have plenty of distractions of their own.
The recent E! Entertainment serious More Vegas Showgirls: Nearly Famous 2 brought this production extra attention and deservedly so. When this show originally opened, it was pretty so-so. But revamped in the fall of last year, this mid-priced show is worth putting on your vacation itinerary.
The publicity from the E! series has this show selling out, and (like most Las Vegas shows now), seating is reserved. Order tickets in advance.
No related links found