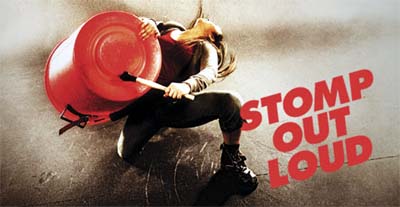 by Erin Guernsey
For those seeking high-energy entertainment, comedic antics and pure theatrical brilliance look no further than Stomp Out Loud located at The Planet Hollywood Resort and Casino. Don?t let the show?s humble opening of one lonely cast member sweeping the stage fool you as it barely gives a hint of what is to come.
Every night the talented performers take audience members on a journey through the world of rhythm and percussion. The show throws the definition of a traditional musical instrument out the window by creating magnificent sounds from the most random objects such as keys, lighters, trash cans and lids, brooms, sand, plastic bags and of course ? kitchen sinks.
As you enter the Stomp Out Loud Theatre you are greeted by a kaleidoscope of junk. The theatre designers managed to make this hodgepodge of items appear to be art on the walls instead of looking like someone?s trash can exploded. The stage itself is also filled with a plethora of mismatched items which will later be creatively incorporated into the show by the cast. Another distinct feature of this production is its costuming. You won?t find any lavish gowns or fancy wigs in Stomp Out Loud. These amazing performers wear simple street clothes that allow plenty of freeform movement.
There are two segments during the show that stand out and are a true testament to the genius of the show?s creators. The first segment involves cast members each taking various lengths of rubber pipes and beating them on the stage to create an alluring sound like no other. As you sit in your seat the melody slowly creeps inside you and then leaves you wondering if the notes you just heard actually came from rubber pipes. The other segment uses different-sized boxes filled with a mixture of dried beans and ping-pong balls. The boxes are thrown and pushed around the stage in a beautifully choreographed dance that must have taken an eternity to rehearse.
One character steals the show with his impeccable comedic timing as he tries to stay in line with fellow cast members, but usually receives the short end of the broom. His hijinks are sure to keep you laughing throughout the entire performance.
Stomp Out Loud is the perfect addition to a night out with friends or a romantic evening with a date. This spectacular show will leave you exhilarated and in awe of how so much intense energy was packed into 90 minutes.