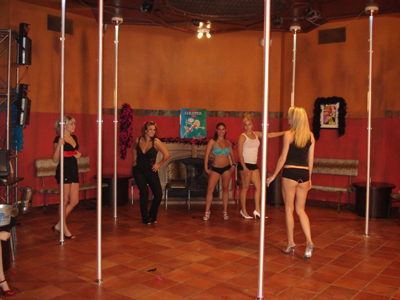 By Devon Brooke Clasen
A class not likely to be found at any university, Stripper 101 at Planet Hollywood offers lascivious ladies not only some sexy striptease skills, but also an afternoon of exercise, laughter and lessons in a truly enviable Sin City art form.

Arriving at the V theatre, attendees are directed to a small bar area for a short wait, where they may survey a variety of center stage performances staged in the Miracle Mile shops, including magic, acrobatics and comedy. Each participant is presented with a waiver release form, which they're told they must sign before participating in this physical and somewhat rigorous class. A cocktail is included with the purchase of a ticket, no doubt aiding the ladies with the release of inhibitions required to attend such a tantalizing tutorial.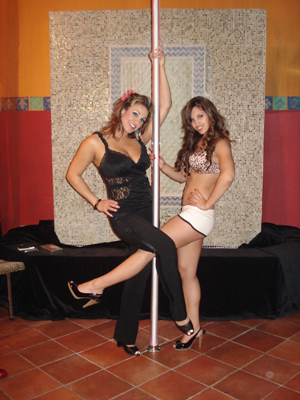 A group comprised mostly of twenty-somethings but including ladies into their 40s and beyond, most of the 20 – 25 attending patrons seem to instinctively dress sexy and skimpy, dressing the part and embracing the "character" even before arriving. The group is lead into a dimly lit, sultry studio, outfitted with a dozen floor and ceiling supported stripper poles, stacks of ballroom chairs and even a roaring fireplace, creating a cozy corner to warm up anyone feeling the chill of the room (intentionally kept cold to cool the roomful of hot proto-strippers to come). Several benches are arranged around the room perimeter, providing seating to those wishing to observe or whose modesty overwhelms them, although at Stripper 101, this problem rarely ever arises.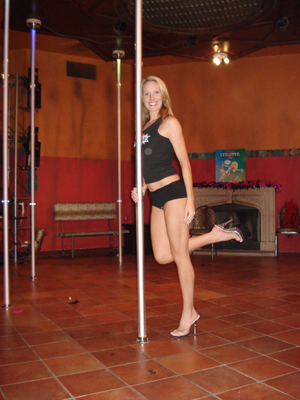 Leading the class, former stripper Kindra (who, along with Rachel, alternates instruction of this 1 1/2; hour course) offers a brief introduction on her history and experience. Kindra is a spirited hostess with an engaging, warm and playful personality which the attendees quickly respond to. With a true talent for teaching in addition to dancing, Kindra creates an encouraging, comfortable and fun environment, with the atmosphere kept very tasteful and reassuring.
Kindra explains that while pole and stage dancing have their place, the lap dance is a stripper's bread and butter. Accordingly, the majority of the instruction revolves around learning to perform a lap dance like a professional stripper. The emphasis remains on entertainment, attitude, and the two most important tenets of a lap dance: confidence and control. Participants receive instruction from the first step, how to "prep" the lap dance recipient, to the most common stripper moves, including the stripper "fluff", the chest roll and shimmy, the head roll dip and flip and even uber-sexy grinding. Kindra demonstrates how to not only perform the provocative maneuvers, but to complete them with grace, confidence and skill. Stripper "physics" are explained ("wear shorts rather than pants while pole spinning, you'll have better friction to keep you spinning longer"), and a bawdy few of the ladies bravely attempt some of the most coveted gravity-defying pole tricks made famous by the forgettable film Showgirls.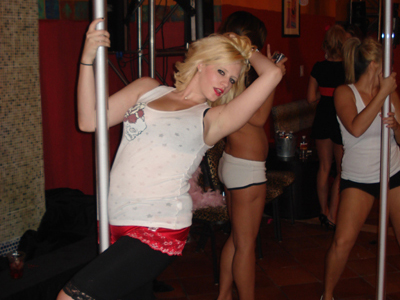 Perhaps fueled by intoxication, the girls aren't shy about quickly joining in on the debauched dancing, with much rowdiness and revelry ensuing. In the middle of the class, all attendees participate in a photo session, where solo and group shots are captured by a professional photographer. Visitors are told that company policy is to take photos of all, but participants seem happy to oblige, relishing their creative stripper-inspired poses incorporating the pole, sexy stilettos and frilly feather boas. Of course, the purchase of photos is completely optional. After all instruction, attendees participate in a free dance, so they may practice all the sensual new skills they've learned. On conclusion, each participant "graduates" and is presented with an official Las Vegas stripper license (a true license to thrill), signed by the instructor and bearing either a real name or a faux stripper name, such as Candy, Amber or the old school classic, Lola.
Undeniably naughty but never nasty, the atmosphere is more R rated than X rated, and with a "women only" policy, no nudity and a spirit of good-natured fun, the vibe remains supportive, playful and comfortable. Any apprehension or hesitation is quickly eased by an instructor who truly has a gift for teaching. Everyone is made to feel welcome despite age, size or skill level. An alluring activity option for birthdays, bachelorette parties and even divorce parties, Stripper 101 offers a unique, irresistible opportunity to learn a sexy skill set likely to be envied and much utilized in your newly active romantic life, or simply to revamp and rev up a long term relationship. Most of all, the class cultivates confidence and inspires awareness of your own distinctive and devastating sexual power. Don't forget to don your heels and not much else, and prepare for a day of some truly sexy schooling!