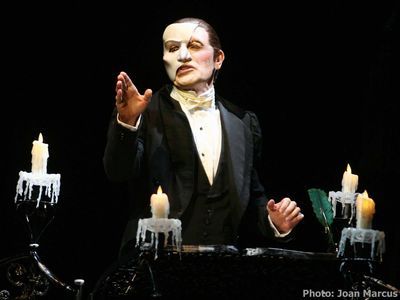 by Erin Guernsey
Your journey into the world of Phantom ? The Las Vegas Spectacular (Phantom Of The Opera) begins as you make your way into the impressive Phantom Theatre, which has been modeled after the Opera Garnier in Paris. Once inside you are met by a chandelier hanging in pieces just above the seats and gray curtains covering the walls. This dilapidated look does not last for long. Shortly after the opening of the show you are transported back in time to see the magnificent opera house in all of its former glory.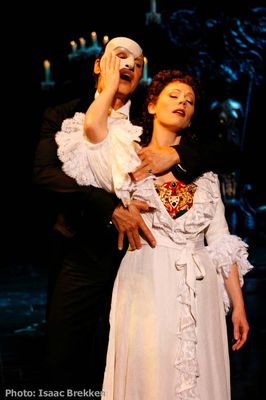 Phantom ? The Las Vegas Spectacular at The Venetian beautifully unfolds the story of Christine Daae and The Phantom of the Opera. During this classic tale of love and heartbreak the audience watches as Christine struggles to move past the loss of her father while becoming entranced by The Phantom, whom she calls "the angel of music." The Phantom begins terrorizing members of the cast and crew when he realizes that Christine has fallen in love with another man. His revenge is taken in the form of murder and a shattered chandelier.
Along with the enchanting story, audience members are privileged to see extraordinary theatrical staging. As the show moves from one scene to the next the stage morphs before your very eyes. One minute you are looking at Christine"s dressing room and the next you watch The Phantom whisk her down through a labyrinth to the bowels of the opera house. A small boat carrying The Phantom and Christine glides across the stage as over 200 candles rise up through the fog. The smooth transition from dressing room to The Phantom"s lair is one of the most breathtaking parts of the show.
The fashionistas in the audience will not be disappointed in the lavish costumes worn by the cast. Even from a seat in the back half of the theatre one can see ornate beadwork and other embellishments on various outfits. There are 500 costumes in the production that cost a total of $4.25 million. The cast member who plays Christine must go through 11 costume-changes during the show.
Amongst all of the amazing visuals presented by Phantom ? The Las Vegas Spectacular, one must not forget that music lies at the heart of the show. Even though this production has been shortened, the elegance of Andrew Lloyd Webber"s original music is still present. The Phantom"s haunting ballad, "The Music of the Night," will put you in a trance just as it did Christine. The lively song entitled "Masquerade" will give you the urge to join the stunning menagerie of costume and color on stage.
Phantom ? The Las Vegas Spectacular is a must-see for anyone who enjoys a good musical or someone looking to be in awe of a fantastic theatre. Make sure you don"t resist when The Phantom steals you away and surrounds you with his dark and mysterious world of music.