By: Nicole Acevedo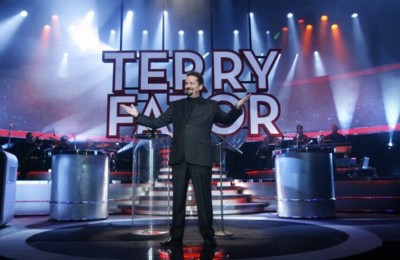 When you say "Art", many will think of Van Gogh's "Starry Night", Michelangelo's "Sistine Chapel", or even The Golden Gate Bridge, but almost no one will ever think of ventriloquism. Except for maybe one man, 8 puppets, an auditorium full of people 5 nights a week on the Las Vegas Strip, and millions of American viewers who voted Terry Fator the winner of the 2007 America's Got Talent show on NBC. Art is not only talent it is imaginative and fun, soulful and straight from the heart. It is exactly what Fator delivers night after night to an audience echoing shouts of laughter and cheer.
Fator immediately impresses the audience with an impersonation of the great Etta James singing "At Last", by his puppet Emma. Following Emma came one of his most popular puppets, Winston The Impersonating Turtle. Winston undoubtedly wins audiences over with his humorous charm along with impersonations of Maroon 5 singing "This Love" and the Bee Gees singing "Stayin' Alive".
This is not an ordinary hand puppet show for the kids. Fator's show is unique in his ability to accurately impersonate and sing with a wide vocal range of popular artists and hit songs using ventriloquism. His art is so polished that it is easy to forget that he is doing all the voices. There were long periods where I would find myself being so carried away by the chemistry between Fator and the puppets that I forgot the puppets were not real, like a child watching Sesame Street believing that the puppets are really talking and interacting with other people.
Soon after each puppet is introduced in the segment there is a sense that each one undoubtedly has its own unique personality, completely separate from Fator. Even though Fator is demonstrably handling the puppets himself and singing and talking for them, his transitions between voices are so smooth and his interaction with them so natural, that the whole performance seems effortless and "real". One such puppet is Maynard Tompkins the Elvis Impersonator.
Others have personalities all their own. Maynard is shy in front of audiences and has a speech impediment so he tends to stutter. Another example is the heavy metal puppet, Dougie, with long hair, torn jeans and a black AC/DC shirt. Also known as "the annoying neighbor", Dougie rocks audiences by singing Guns N' Roses' "Sweet Child O' Mine", but when Terry Fator tries to rock audiences with Z.Z. Top, Dougie falls asleep on Terry's shoulder. Dougie gets the crowd going again with the whole audience singing along to "Sweet Home Alabama".
Accompanied by an amazing live band playing many more hits than I was able to mention, Terry Fator has so many unique characters, each one charming and entertaining audience members with their humor and uncanny impersonations of classic hit songs. Even Fator himself does a hysterical impersonation of Michael Jackson followed by a side-splittingly funny dialogue and duet with Walter The Country Man. Don't let the mere idea of a ventriloquism show fool you. This is more than ventriloquism, but an artful performance of humor, creativity, and fun. Fator is a one-man show of a multitude of voices and talents as he fills the night with non-stop laughter!