Las Vegas Shows and Entertainment:
The Amazing Johnathan Show Tickets and Reviews
The Amazing Johnathan
Reviewed September 19, 2005
by Nancy Hruska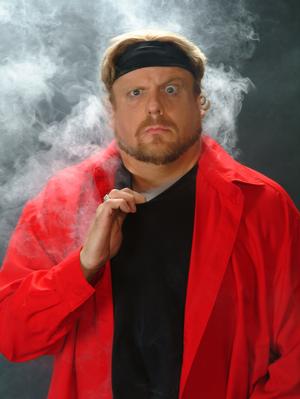 Well it looks as though conventional magic and traditional punch line comedy have viciously been tossed out a 20 story hotel casino. Their replacements? Shameful jokes, psychic strippers, humiliated audience members, bad karate theatre, and the revival of the lost art of foam magic. The perpetrator? The Sahara Hotel and Casino?s own Amazing Johnathan.
When it comes to competitive top Las Vegas shows, a comic magician who is undyingly abrasive with absolutely no sense of shame could be a recipe for disaster. But in Johnathan?s show, where nothing is sacred and no act too vile, this guy is just pure genius.
The Amazing Johnathan has had more appearances on TV than any other comic/magician in history and was also named Las Vegas? "Comedian of the Year" in 2002. Why all the hype over such a bizarre character who drinks Drano as part of an act? Simple. His impulsive style and outlandish humor is unlike that of any other show- this stuff could not possibly be rehearsed.
"Do something funny!" says Johnathan as he leaves his victim (audience member) on the stage all by himself under a spotlight in front of a full house. Horrifying for anyone, but only as small part of Johnathan?s self made career of humiliating people and himself alike. And the house clings to every degrading moment. The combination of dirty jokes, simple ridiculous magic tricks, the F word, and insane asylum material is for some reason unquenchable for onlookers. It must be if the house doubles over at "sometimes I run around naked so I?ll drink some Windex to prevent streaking." And low and behold, he does.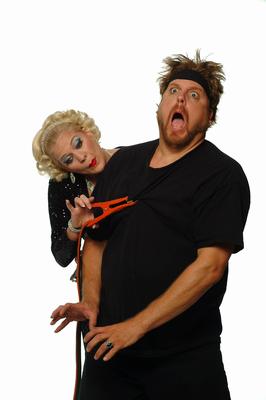 Whether Johnathan "the Freddy Kreuger of Magic" knows it or not, he is obviously displaying one major theme throughout his work: Ordinary magic and comedy are boring and must be exploited to the fullest extent of his twisted laws. So the less than ordinary have arrived, including but certainly far from limited to the following examples: Tanya the Psychic Stripper. A new kind of magic assistant, lovable, voluptuous, and wickedly dumb. Harry. Johnathan?s ex-partner and real rabbit that gets on the mike does a bit that?s out of this world. Foam magic.
Johnathan?s claim to anything but fame. His mysterious art of shape changing foam that has no validity in the illusion world but the concept is so mad that people love it. But Johnathan?s most exciting feature in his wacky entertainment is far from crazy and shows the very humane side of Las Vegas? mad man of magic. Half of all Amazing Johnathan paraphernalia goes to the Make A Wish Foundation. Perhaps he?s not that insane after all.
Choreographed dialogue, mapped out stage direction, diplomatic jokes, manners, and standard drinks are not allowed in the door. One should not enter the showroom if sensitive to ground breaking creative material that specializes where the sun doesn?t shine. But if one dares to let loose in Amazing Johnathan?s world, they'll be the lucky few to step out of the limited boundaries of conventional magic and comedy.
No related links found