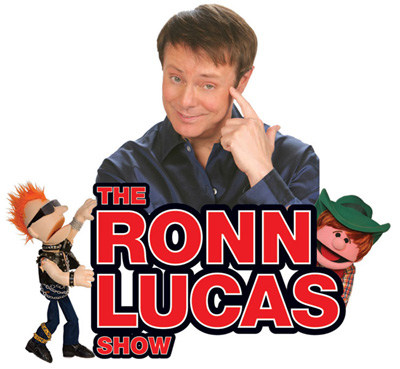 By DW Grant
In Ronn Lucas?s world anything can argue with you; dragons, microphones, socks, feet, bare hands, and even some audience members. The 90 minute show, on stage almost everyday at 1 PM at the Thunder Room at the Excalibur Hotel is a fun world for both children and adults.
Ronn Lucas is not your average ventriloquist and his performance is not your typical dummy on a hand show. For 40 years he?s shared his world in command performances before three presidents and the queen of England. He has also appeared with David Letterman and Jay Leno, and on Night Court, Nip and Tuck, 1 vs. 100, LA Law, and his own TV show.
He has been awarded numerous accolades, including ?The World?s Best Ventriloquist,? by The New York Times and The London Times; honored as ?Entertainer of the Year,? by Gold Cabaret Awards and ?Ventriloquist of the Year? by the American Society of Ventriloquists. Lucas is also a two-time winner of Showtime?s ?National Laugh-Off?.
Strangely enough Ronn Lucas grew up on the same central Texas plains as three other prominent ventriloquists, Terry Fader, Jeff Dunham, and Jay Johnson. ?Must be something in the water,? he explains.
For children Ronn offers ?scorch,? the teenage dragon, trashing-talking his master and singing songs like ?Teenager in Love? and rapping other teen favs.
There are some slightly blue jokes for adults in Ronn?s world, flying over the heads of most kids, and some silly body humor that a young one or two may catch and giggle over. Scorch warns parents in the show?s opening minutes, before he is rushed off stage, ?If mild language used by 3rd and 4th graders on the school grounds offends you then maybe you shouldn?t be at a show in a casino?? Okay, so Scorch says ?heck,? ?hell,? ?Belly Button,? ?Nipple,? and ?Henderson.? You have to forgive him; after all he is just a teenager.
But the afternoon really belongs to his collection of partners, some he brings out of a trunk and some he brings up from the audience. Buffalo Billy flirts with the ladies in the front seats and duets ?Row Your Boat? with Ronn, even though Ronn tries to warn him a ventriloquist can not duet with his dummy. Amazingly they do it anyway, and we can?t help but love it.
Ronn pulls Chuck the Punk out of a trunk, but the whole acts pulls itself apart and Chuck is forced back in to the dark but not obscurity. We won?t forget him.
And then there is a signature Ronn Lucas classic bit. Pulling a member of the audience onto the stage Ronn dresses the ?volunteer? up like a puppet, with a hat, and bib with a tie, and a puppet mouth. It makes hilarious magic for the audience and humiliating fun for the participant.
The last set is a tribute to Ronn?s grandfather who first shared ventriloquism with him many years ago, via an ordinary sock and a hand. It?s funny and touching and as creative as any performance I have seen in Las Vegas.
After the show Ronn shares free autographs and photos with anyone who will line up just outside the theater in the company store. In the store he shows an unusual grace and warmth with both adults and children.