Las Vegas Shows and Entertainment:
Tournament of Kings Show Tickets and Reviews
Excalibur Tournament of Kings
Reviewed April 18, 2001 by Ted Newkirk
Las Vegas still has a dinner show on The Strip, but it is a little more WWF than watching some guy croon "My Way." Tournament of Kings takes us back to medieval Europe with fire-wizards, dragons, invading armies, and jousting.
The arena is surrounded by four tiered rows each with table room in front of you, so there isn't a bad seat in the house. Take note of the section you are sitting in, as that is the king that you will be rooting for. Be there on time as dinner is served, and be ready to "rough it" a little when it comes to eating.
Dinner starts with a tomato-style soup that you drink straight from the bowl as well as an unidentified soft drink in a big plastic mug. Then comes a platter with a game hen, broccoli, and a roll. Wash up first, as you are eating EVERYTHING with your hands. It's not as bad as it sounds. Actually, it is fun to be a little piggy and really gets you in that "set back in time" mood that helps bring added enjoyment to the show.
This is a play-along show and we are taught how to cheer, when to drink a salute and we get to cheer for our "country" section as the full cast enters in marching procession. The kings have their "feast" at the round table as we are finishing ours and then on with the show.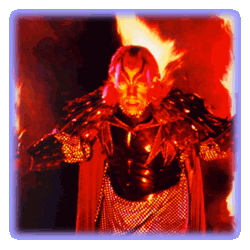 The kings compete against each other in jousting and other medieval fighting skills in a tournament for our viewing pleasure. Both the actors and the horses they ride are obviously well trained in stunt work and put on a serious show. Some audience members get into it more than others, but you do best to forget your inhibitions (hey, you are in Vegas) and yell, chant, salute, drink, and cheer along.
As the winning king takes his victory lap, the evil wizard appears with his followers in flash, fire, and smoke provoking an all-out war between the kings and the evil ones. This is a lengthy, dramatic finale that ends in true fairy tale fashion with good winning out and the heroes getting the maiden of their choice.
This is truly an all-ages show. You can take the kids to it but there is plenty of fun for the adults. The actors all really convey the look of the period, costumes and effects are impressive, the horses well trained and beautiful, and the action very realistic considering it is viewed fairly close up. Considering the rising prices of Las Vegas shows and that this one includes dinner, it's not a bad value either.
No related links found