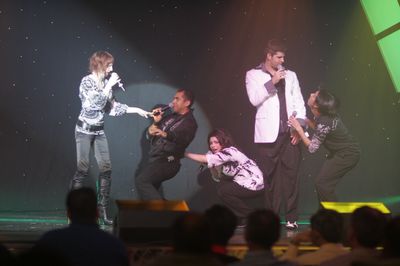 by: By DW Grant
"Toxic Audio," what the heck is that?
It's one of best small shows in Vegas; and at half the price its just as much fun as The Blue Man Group, moves with just as much energy as Gans or Newton, and delivers just as many laughs as a night out with the Second City comedy troupe.
So, what is it? It's Voice, and all voice. Not a sound comes from the stage that isn't produced by someone's voice. Drums, guitars, sax, bass, and some mysterious musical modulations come out of the mouths and noses of these performers with such amazing clarity you can then understand why the promotional icon is a guy with a microphone for a head.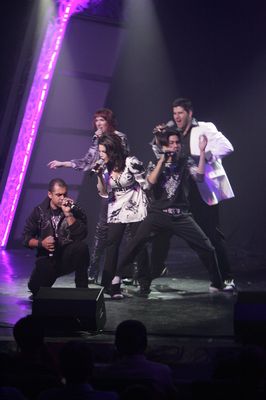 It's five singers with no back up band or recorded tracks pumping out "Autumn Leaves" in English, French, German, Korean, Scat, and Pig Latin. Its Paul Sperrazza, a "human beat box," tearing up the audience like a mix of Jim Carey, Jerry Lewis, and that guy who almost won American Idol last year. It's also Rene Ruiz, the founder of the group, whose credits include "Forever Plaid," delivering a unforgettable show to a cheering audience.
Oh and there are 4 other performers making it happen for the audience too; Christine Vienna, Tim Jones, and Heather Friedman, and the "sound guy. The sound guy gets his own song during the show and definitely deserves his own sentence in this review, his name is Shannon Brady. There is no band to coordinate but he's does a heck of job keeping five very good singers in perfect balance.
Simple, but too big for the room, Toxic Audio has been playing a weird 5:30 pm slot at The Planet Hollywood's V-Theatre for a few months or so. I'm glad I caught it early before word of mouth got out because this show is going to play at better times and tickets are going to get harder to get. Thank god Planet Hollywood is expanding the theatre!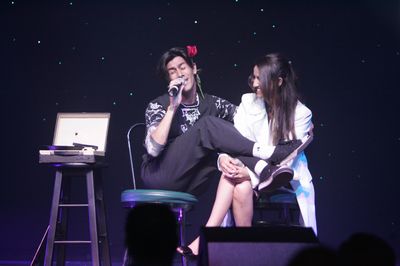 Toxic Audio has been traveling the country and the world since it was discovered by Disney at the Orlando International Fringe Festival in the late 1990s. It played to packed houses at the Jazz Club in Pleasure Island at Walt Disney World, and set up off-Broadway in 2004, where they won the 2004 Drama Desk Award for "Unique Theatrical Experience." It was crowned champion at the National Harmony Sweepstakes in California in 1996, and did a brief stint at The Luxor, here in Las Vegas, in 2005. Vegas now has its own Toxic Audio troop, including two original cast members, while other "Toxics" have to travel the country. Hurray for us!
You have to like a team of singers who can improv a beat box song about Pat and Debbie Boone and who will play "Jaws" with its audience. As a matter of fact the audience is almost the 6th player in the troop. Four or Five audience members are brought on stage at different times in the 70 minute show, and singers perform in the isles just a frequently.
Toxic Audio is family friendly too, mixing it up with TV themes from "Route 66" and "I Dream of Jeannie," a better than The Muppets version of "Menomena," and an eerie but beautiful surround-sound version of "Stand by Me." They even "put the lime in the coconut" and make hacking and coughing sound lyrical. Some fresh beat box crash brings the kids back in and rounds out a great show built for everyone.
Some of these vocals are tracked on the Toxic Audio "Chemstry" CD along with other fun songs you didn't hear in the show like "Easter Island Head" and "Paperback Writer," the old Beatles fave, done the Toxic Audio way. Of course the CD is available after the show to those of us who didn't get a free one for taking part in the performance.
It's hard not to give a standing ovation to a show that already has you on your feet clapping and cheering. "Toxic?" No, I would much rather rate it "addictive." I'm going back to see it again.